DeviceNet and ControlNet, What's the Difference?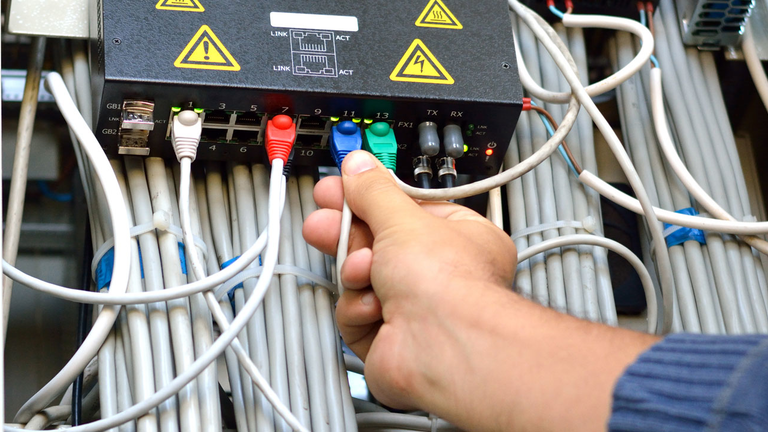 Industrial automation applications range from straightforward to extremely complex depending on the industry. For those just beginning their digital transformation, starting simple and then scaling as the value becomes evident is an accepted path. For others with the technical skillset and IT infrastructure in place, more complicated data needs may dictate a broader and deeper path to digitization.
There are other factors to consider as well. For many companies, ROI is high on the list moving forward. And it may also depend on practical factors such as the number of devices that may need to be controlled off multiple I/Os. Finally, practical considerations such as facility layout and age of legacy equipment in a factory may point toward a specific solution as there is still a considerable amount of older manufacturing equipment that needs to be retrofitted.
While having the latest and greatest technology is considered optimal, it may not be practical or necessary given considerations such as those above. For these reasons, that is why many companies still utilize DeviceNet and ControlNet rather making a beeline straight to ethernet/IP. Each company must assess what works for them not only in the lifespan of their digital initiative and its scale up over time, but also for what works for their unique needs, budget requirements, age of equipment and physical reality.
Differences Between DeviceNet and ControlNet
While similar in purpose, DeviceNet and ControlNet are different in their capacity and volume of data delivered.
DeviceNet – Originally developed by Allen-Bradley, DeviceNet is a protocol that works atop a Controller Area Network (CAN), an integrated serial bus and communications protocol that allows connection of devices in real-time for control applications. It also uses the Common Industrial Protocol (CIP) to deliver an open, low cost, effective communication network for devices. These may include simple floor level factory devices such as buttons, sensors, motor starters and drives and control systems.
ControlNet – Also known as fieldbus, ControlNet is supported and managed by the Open DeviceNet Vendors Association (ODVA) which also manages CIP, the Common Industrial Protocol group. ControlNet is also used for industrial automation but is used in cases where the required volume of data is much higher for use in devices such as robotics, motion sensing, motion control and visual controls. It is used in companies who require advanced automation and IIoT control or who are scaling their IIoT to a more sophisticated level.
Given these distinctions, and if a company is not immediately going the ethernet/IP route, what then are the differences between DeviceNet and ControlNet that are needed to guide decision-making? Below are the attributes and key functional differences between the two and some common drawbacks of each.
DeviceNet Attributes and Drawbacks
Number of Devices – DeviceNet allows up to 64 devices on a single node. These are usually simple devices with low data requirements such as on/off motor controls, sensors, buttons and straightforward control systems.
Efficient Use of Bandwidth – Because the main function of DeviceNet is to control I/Os at the machine level, the required bandwidth of the data is smaller than ControlNet and DeviceNet can operate effectively at speeds of 125-500 kb/s.
Power – DeviceNet provides power and signal in one cable, saving cost in deployment over both ControlNet and ethernet. This is also helpful in connecting legacy equipment where IIoT connectivity is not native from the OEM in an older generation of equipment. As these machines often require both power and signal, DeviceNet provides both.
Architecture – Because DeviceNet uses a trunk and drop system, devices can be easily added up to 64. This reduces installation time when needing to add additional devices and helps companies at the beginning of a digital transformation utilize phase in to accommodate budget or maintenance constraints.
Node Address – Because all 64 devices route through a single node, DeviceNet is easier to troubleshoot and maintain. This is an advantage in companies whose IT and maintenance infrastructure are undergoing a learning curve for an IIoT implementation. The ability to troubleshoot, repair or change components is more effective and helps gain confidence in the system.
Scale Considerations – DeviceNet is ideal for factories that require simple data control or who are just beginning their IIoT journey. As a company's digital transformation matures and new, advanced automation is required, DeviceNet can be scaled to work with ControlNet
Wide Acceptance – Because DeviceNet offers lower data transfer requirements, lower cost and a high degree of reliability, it is widely accepted and supports a multitude of hardware from different vendors.
DeviceNet Drawbacks
While widely accepted, there are some drawbacks comparative to ControlNet. These factors must be considered when assessing needs for IIoT adoption and for its scope. These include:
Limited message size
Significantly shorter cable distance
Lower bandwidth
Lower number of devices per node
ControlNet Attributes and Drawbacks
Number of Devices – ControlNet allows up to 99 devices per node compared to DeviceNet.
Speed – ControlNet has a much higher speed than DeviceNet at data transfer rates of 5MB/s. This is due to the higher bandwidth required for devices such as robotic and motion control, visual control systems and Human Machine Interface (HMI) controls.
Deterministic Data Transfer – In addition to requiring higher volumes of data, ControlNet also uses deterministic data transfer. With higher data transfer rates and higher data volumes, ControlNet uses this feature to control the data flow by setting exact times of transfer to and from. This keeps packets from affecting one another. Software allows the user to define the timing to manage the bandwidth and ensure data flow without interruption or corruption. ControlNet also uses a token-passing bus control network where timing is set by the network update time (NUT) to manage data for both scheduled and unscheduled service.
Cabling – Unlike DeviceNet, ControlNet does not provide power and signal within one cable. Because the data transfer rate is higher, it can use coax or fiber optics to separate the data from the power to allow better data flow management. Additionally, the use of fiber optics allows for signals to go up to 1000 meters without a repeater.
More Flexible and Sophisticated Data Utilization – ControlNet is more than simple sensors and on/off commands. It connects PLCs and HMIs at the floor level that can be utilized by IT management and operations and business management. The higher volume of data can be directed to IIoT platforms either alone or as modules integrated via API to an enterprise ERP system. This provides operational data and real-time decision-making that unlocks the full value of the data coming from the floor.
ControlNet Drawbacks
Higher cost for hardware
More difficult to troubleshoot than DeviceNet
More complicated cabling requirements (signal only)
Using DeviceNet and ControlNet in Together
To the extent that the two systems have drawbacks, these drawbacks are more value choices than negatives and only offered as "drawbacks" for the sake of comparison. In most cases, they are simply a function of the tradeoffs accepted with the assessment of business needs. If a company is only beginning its digital transformation, or if it utilizes less complicated equipment with few process steps, then the drawbacks are part of the value that drives adoption of the specific type of device control system chosen. The same goes for companies further along their journey or whose processes and production control require massive data management to enable automation.
But the two are also not exclusionary. As a company's digital transformation matures, they may seek to scale their IIoT footprint to encompass more data and a higher level of capabilities. In these cases, ControlNet and DeviceNet systems can work together as rather than requiring a replacement, systems can be configured to work together to maximize the lifespan of the initial DeviceNet components.

Have a suggestion for products we should compare? Leave a comment below, or send us a message on Facebook, Twitter or LinkedIn.
https://www.facebook.com/DoSupplyCompany
https://twitter.com/DoSupplyCompany
https://www.linkedin.com/company/dosupply-inc