There is a much-hyped debate between two of the world's most notable tech entrepreneurs, centered on the risks inherent in the rapid development of Artificial Intelligence (AI). This highly publicized row involves the dueling perspectives of Mark Zuckerberg, Founder and Chief Executive Officer of Facebook, and Elon Musk, most notably co-founder and Chief Executive Officer at Tesla and Space Exploration Technologies (also known as SpaceX). Mr. Zuckerberg is optimistic and eager to advance AI as Facebook chases its goal of building a global community, while Mr. Musk is concerned and cautionary about AI's potential threats to humanity if its growth is unchecked, its power too centralized.
Their arguments are compelling and important to understand, as is the nature of AI technology itself.
Artificial Intelligence, the Enigma
Though the term "AI" is universally known, it is not widely understood by the general public. This could be because AI technology is in its infancy, and much of what the average person knows about AI comes via media coverage. Research groups such as The Future of Life Institute (FLI) aim to improve our collective understanding of AI and its capabilities, not only for the sake of educating people, but also so we may develop AI in a manner that is beneficial and safe for humanity. In the context of Mr. Zuckerberg's and Mr. Musk's debate, FLI provides valuable grounding information.
Founded by tech entrepreneurs and academics in 2014, The Future of Life Institute's mission is "To catalyze and support research and initiatives for safeguarding life and developing optimistic visions of the future, including positive ways for humanity to steer its own course considering new technologies and challenges." With a current focus on mitigating risks associated with nuclear weapons and biotechnology, FLI's team consists of five founding members: Jaan Tallinn, Co-founder at Skype; Max Tegmark, Professor at MIT; Viktoriya Krakovna, Research Scientist at DeepMind; Anthony Aguirre, Professor at UC Santa Cruz; and Meia Chita-Tegmark, PhD candidate at Boston University. There is also a multidisciplinary advisory board of 13 individuals, which happens to include Mr. Musk among its ranks.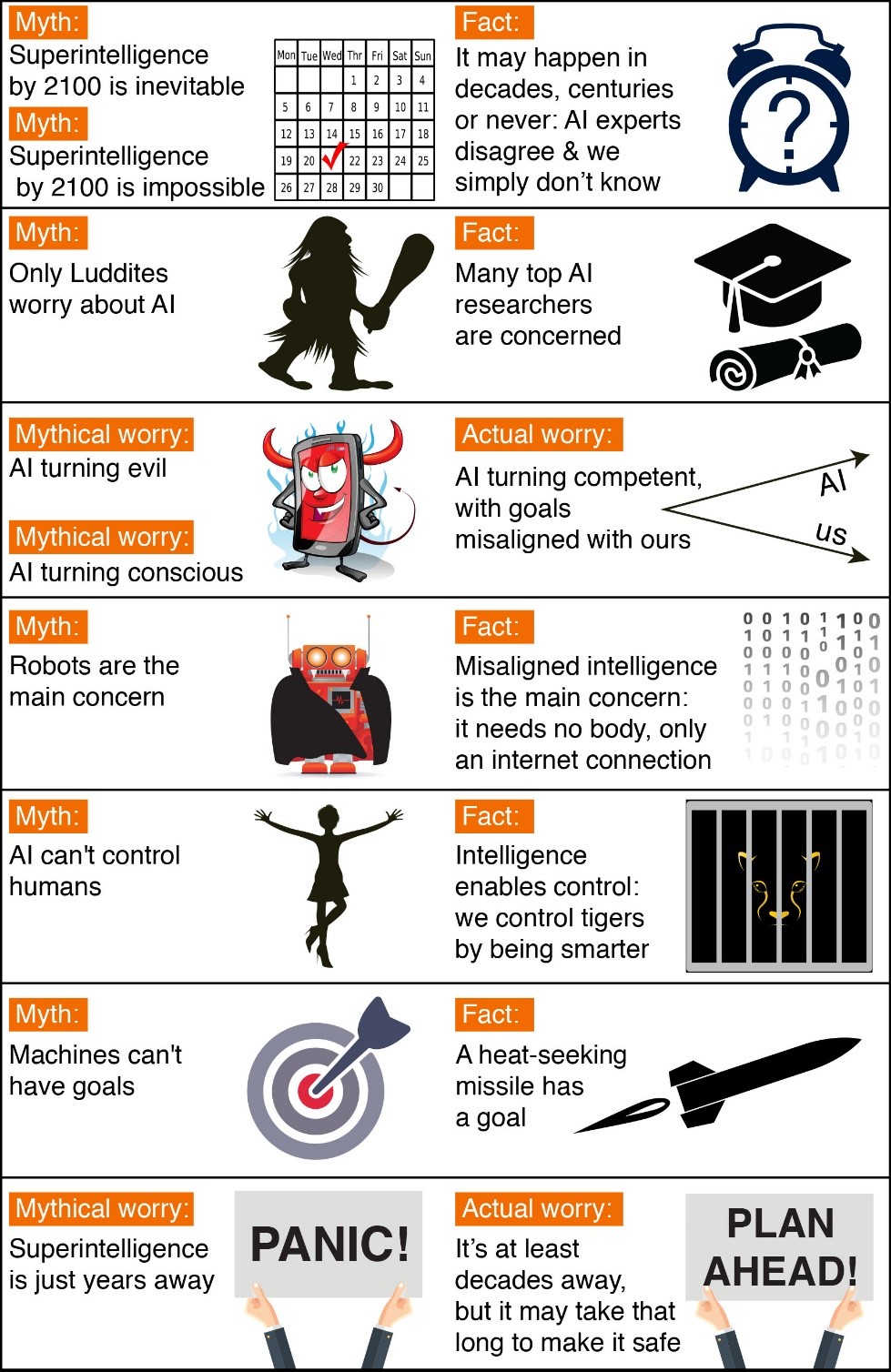 FLI categorizes AI into two subtypes based on functionality. Most prevalent today is AI software that can perform singular tasks, such as recognizing a person's unique facial features or driving a car. This subtype is known as narrow AI or weak AI. Humans partner with narrow AI for enhanced productivity, and they are not fully replaced by it. The future of AI lies in the evolution of artificial general intelligence (AGI) or strong AI, which should be able to perform more complex tasks and rely less on human partnership. While the definition of AGI is not universally agreed upon (after all, it is still largely a concept and not a reality), there is a general consensus that AGI will exhibit the following capabilities at the least:
In the face of uncertainty, demonstrate the ability to reason and make judgments
Utilize common sense knowledge when making decisions
Plan for the future, and consider that future when taking action
Learn and retain knowledge from experience
Communicate in a natural language
To perform these tasks well, some experts believe that AGI will need to develop intelligence approaching consciousness. Such an advancement is an exciting prospect for the future, and also the crux of the highly publicized debate between Mark Zuckerberg and Elon Musk.
Mark Zuckerberg: AI, the Tech Panacea
Mark Zuckerberg holds an optimistic view of the future of AI and believes AI is key to solving challenges faced by his ubiquitous company. In April of 2018, Mr. Zuckerberg testified before the United States Congress about Facebook, and several times referred to AI as a means to make the platform more secure while fostering a global community. Nearly a year prior, Mr. Zuckerberg hosted a Facebook Live event during which he touched on his positive outlook with regard to AI. "In the next five to ten years, AI is going to deliver so many improvements in the quality of our lives," he said.
Mr. Zuckerberg's company is pushing significant resources into AI research efforts, which are carried out by a division called Facebook Artificial Intelligence Research (FAIR). By the year 2020, a staff of roughly 180 to 200 people will grow to about 400, lead by Chief AI Scientist, Yann LeCun. In addition to his duties at Facebook, Mr. LeCun is a part-time Silver Professor at New York University, among other things. In fact, any members of the multi-national, inter-disciplinary team at FAIR have ties to the world of academia. Facebook has drawn criticism for its aggressive recruitment of AI researchers, specifically due to the pressure placed on universities and non-profit AI research groups.
According to Terena Bell, a freelance journalist specializing in AI who writes for online tech publication CIO, Facebook is advancing AI in the following areas:
Connecting our brains to the software via hardware like Google Glass or Snap Spectacles
Providing video content recommendations based on your and your friends' behavior on Facebook
Eliminating issues with the Facebook Live feature, namely troublesome broadcast subject matter
Identifying pornographic content using visual recognition technology
Protecting Facebook's leader, Mr. Zuckerberg, from the 14 million threats he receives annually
Managing visitors to Facebook's offices, specifically allowing employees to use a chat platform to report threats
With varying degrees of success, Facebook also uses AI to identify terrorist propaganda, political spammers and fraudulent accounts, and other potential threats. However, these efforts require an understanding of linguistic and social nuance, an area that remains challenging for AI, so human intervention is still necessary. In addition to its AI development efforts, Facebook employs a sizeable group of content moderators.
Elon Musk: AI, the Necessary Evil
Elon Musk decries the dangers inherent in AGI and has been a vocal proponent of regulating the technology as it is developed. Appearing in a 2018 documentary entitled 'Do You Trust This Computer?' Mr. Musk warns "The least scary future I can think of is one where we have at least democratized AI because if one company or small group of people manages to develop godlike superintelligence, they could take over the world." He also holds a place on the 13-member FLI advisory board, presumably to assist with building a future far better than the least scary one he describes.
When it comes to fears of AI's potential as a threat to humanity, FLI identifies two scenarios:
Humans deliberately program the AI to perform a devastating task, particularly in the context of warfare
In the performance of a beneficial task, the AI develops a destructive methodology and resists intervention
Mr. Musk, characterized by Vanity Fair's Maureen Dowd as "a leading doomsayer", has been attempting to make the case for slowing the development of advanced AI for the sake of enacting regulatory safeguards, no doubt because he believes that we are in grave danger of the above scenarios becoming a reality. These efforts began during a speaking engagement at the Massachusetts Institute of Technology (MIT) in 2014, and have evolved over the years as the entrepreneur explores ways to mitigate the threats he perceives.
In 2016, Mr. Musk co-founded a tech start-up called Neuralink, for the purpose of developing a means for the human brain to interface with computers. Appearing on an installment of the popular podcast "The Joe Rogan Experience", he repeated the warning "Best-case scenario, we effectively merge with AI, where AI serves as a tertiary cognition layer. It will enable anyone who wants to have superhuman cognition." Therefore, in addition to democratizing and distributing AI to avoid concentrating the power with a small group of people, integration with the technology at the most intimate level will provide the regulation Mr. Musk demands. "I tried to convince people to slow down AI, to regulate AI, but this was futile. I tried for years. Nobody listened."
As illustrated in the graphic below, Mr. Musk has good company in his cautionary stance, though he is by far the most famously vocal.
The Debate Rages On
While Mark Zuckerberg invests countless resources into the rapid development of AGI to replace human effort at Facebook, Elon Musk continues to advocate for keeping the balance of power tipped in favor of humans. At this point, neither tech titan shows signs of acquiescing to the other's point of view, and it is undoubtedly worth exploring the positions of other tech titans like Bill Gates and Larry Page to further understand the AGI development landscape. One thing is clear: This debate is an invaluable opportunity for the public to educate themselves about AI and participate in the conversation about how it will shape our world's future.