What is the Difference Between a Fuse and a Circuit Breaker
In an electrical circuit, we always encounter either a circuit breaker or a fuse. Many people, even with all available info on the internet, mistake a fuse for a circuit breaker or vice versa. The common thing about these two is that they both protect electrical circuits from overloads. These overloads are usually mitigated by disrupting the continuity of the current.
So, since both the circuit breaker and fuse essentially do the same thing, do we really need both of them? If so, which one is better, and why? We've done our best to answer these questions in this article.
What is a Fuse?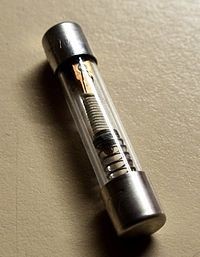 A fuse is something we all have in our houses and buildings, whether it is a commercial or residential building. While there are several types of fuses, the most common one is made of metal and is plugged into a central fuse box. The metal wire inside the fuse is enclosed in ceramic or metal casing, which is then mounted into a central fuse box, located at the place where the wiring passes through. When the current flows, the fuse is here to permit the current from passing unobstructed through the wire or filament between circuits. This all works well until an overload occurs.
In the case of an overload situation, the wire or the filament melts and the flow of the current is stopped. Although the filament takes some time to be completely melted, the power surge is completely halted. A blown fuse needs to be replaced and the broken one should be disposed of. Buying the wrong fuse for your fuse box can be counterproductive; that's why you need to check voltage ratings on your broken fuse before you buy a new one. Different fuses can handle different electricity capacities.
The best solution is to buy a slightly stronger fuse than you need. This will ensure that overloads are reduced to a minimum.
What is a Circuit Breaker?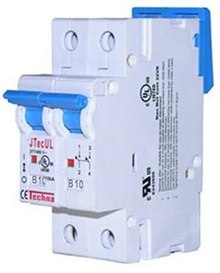 In a circuit breaker, you won't find any molten parts, as it works in a completely different way. The circuit breaker usually comes with either an electromagnet or a bi-metal strip. When turned on, the electrical current passes from the bottom to the top terminal across the strip/electromagnet. If an overload occurs and the current reaches an unsafe level, the magnetic force of the strip raises to a critical level. Still, it won't be strong enough to throw a metal lever in the switch mechanism, which is what breaks the current.
However, a metal strip can sometimes be bent, depending on the circuit breaker. In this case, a metal lever can activate the switch and break the connection. As you probably know, the flow of the electricity can be restored by turning on the circuit breaker again. This will reconnect the circuit without any compromises. The classic example of a circuit breaker is used commonly, so much so that it is probably somewhere close to you. With that circuit breaker, you can switch your lights on or off, which is the most common use in the households. Another application is GFCI (ground fault circuit interrupter) which is basically a mean of preventing electric shock.
Key Differences
The first main difference is regarding the price. Fuses are much cheaper and are available in any hardware store. They also offer more protection to electronic devices and they react quickly to any power surge. However, if your electric circuit is prone to power surges, you'll need to change your fuses quite often. Although they're cheap, the replacement is sometimes impossible, especially in a dark room. On top of that, many users buy a fuse with the wrong voltage or current rating thus exacerbating the problem even more. Still, fuses are much cheaper and easier to replace than circuit breakers.
The circuit breakers, on the other hand, don't need to be replaced that often. Since they don't have any parts that could melt, the power surge isn't going to roast your circuit breaker completely. Furthermore, their reaction speed is much slower, meaning that the electronic device connected to it can be damaged by the power surge. Replacing a circuit breaker is also more of a hassle. Not only are they more expensive to replace, but they are also more difficult to remove and install.
Clearly, fuses and circuit breakers have different purposes and should be used accordingly. That's why contacting the nearest electrician is your best bet.
Conclusion
As we just said, both fuse and circuit breaker are good for their own purpose. While fuses are used in the main fuse boxes, circuit breakers are often found on our walls and are used for turning the light on/off. Fuses are much cheaper but usually need to be replaced more frequently. Circuit breakers are more expensive, yet more durable since they don't have any parts prone to damage.
Before doing anything with your fuses or circuit breakers, be sure to contact an electrician. They will determine if you need a circuit breaker or fuse, and which type, depending on its purpose.