Hardware Comparison: Panelview 800 vs. Panelview Component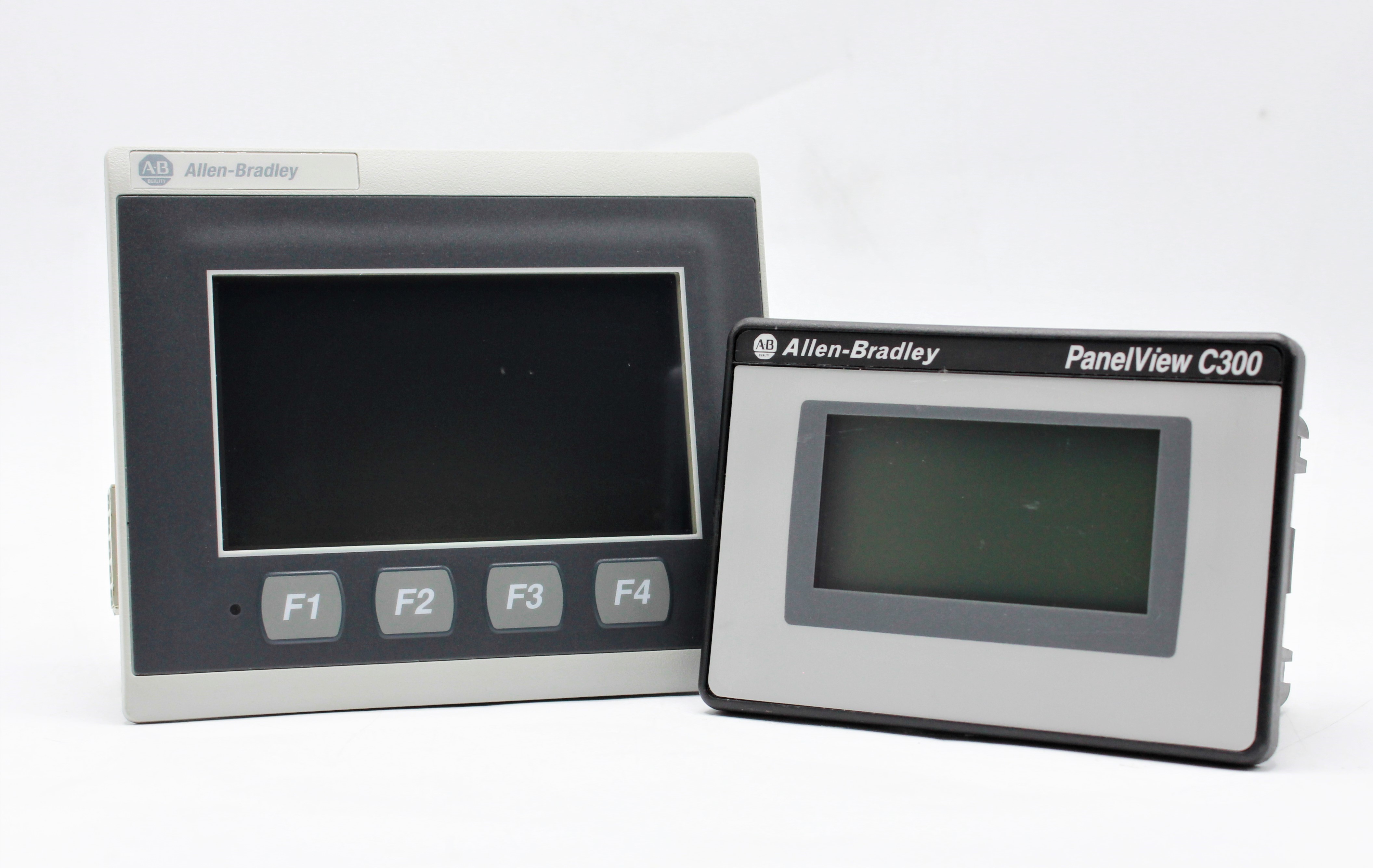 The Allen Bradley Panelview 800 family is the generational replacement for the Panelview Component family. As of July 2018, the Panelview Component family was discontinued and no longer from sale from the manufacturer, with the Panelview 800 as a functional replacement. For those applications currently using Panelview Component HMI's, this comparison will help determine which Panelview 800 would be the appropriate replacement.
The Panelview Component family debuted in 2010 and was designed for micro and small automation applications. Screen sizes ranged from 2" to 10", with the 2" having additional function buttons and the 3" and 4" screens having options for additional function buttons. Screens were either monochromatic or up to 256 color RGB. Power requirements for the units was 24VDC and from 3.5W to 18W for the smaller to the largest screens. Connectivity was via Ethernet or serial communications. In general, these were simple, smaller, easy to use screens that utilized Panelview Component DesignStation to create HMI's.
The Panelview 800 is Allen Bradley's most recent offering in the micro to small Panelview genre. Available in 4", 7" or 10" sizes, they all boast color screens and additional function buttons on the 4" model. They have some significant upgrades over the Panelview Component family, mostly due to improvements in technology over the years. Panelview 800 processors are faster, allowing for reduced boot up and screen switching, as well as improved response in controls. They boast a larger memory (256MB vs. 64MB) allowing for larger or more complex HMI screens. They have a higher resolution (best 800×600 vs. 640×480) and improved color capability (65K color vs. 256 color), allowing for better visualization. The Panelview 800 can support Class 1, Div 2 Hazardous Locations and is IP65 and NEMA 4x rated. Communications is still via serial or Ethernet/IP via terminals or an integrated RJ45 port. The greatest advantage the Panelview 800 has over the Panelview Component family is the improved integration with Micro800, MicroLogix, and CompactLogix controllers. Over the past few years, Rockwell has strived to improve the integration of their controllers and HMI's from an engineering standpoint, and this is very evident as they roll out successor products.
One of the biggest advantages from an engineering standpoint of the Panelview 800 over the Panelview Component is the use of CCW for programming. This free software from Allen Bradley allows you to program Micro800, PowerFlex Compact class drives, and Panelview 800 HMI's in one setting. Screens are easy to develop, integration of tags into Micro800 controllers is simple and seamless (MicroLogix and CompactLogix require some importing and exporting to complete), and commissioning and troubleshooting are simpler tasks with the new software. The best part about this is all of this is from a free software, which is an anomaly from Rockwell.
If you're currently looking at replacing a Panelview Component you have two options; replace with a current Panelview (probably an 800) or find a "like new" or used Component family from a secondary sales vendor. Utilizing a used Component family will make for an easy replacement, although the inventory of viable units will continue to dwindle due to the lack of new units being produced. Replacing with a Panelview 800 will require work in CCW, recreating the screens and reassigning the tags. There may be some physical modifications, as the new Panelview may not fit in the same cutout. Adapters do exist for some size transitions.
In general, the Panelview 800 and Panelview Component families are similar, with the differences primarily being the advantages of the more current technology used in the Panelview 800. Both are used for smaller applications, both use serial and Ethernet communications, both have additional function buttons and color screens. The size ranges are similar, 2"-10" for the Component family, 4"-10" for the Panelview 800. The most significant difference is their point on the Product Lifecycle Allen Bradley utilizes to coordinate their product offerings. Coordinating with a local integrator to prepare for replacement can minimize downtime and prevent unwanted loss of capabilities due to component loss. If the plan is to continue using the Panelview Component family, ensure you have a reliable vendor and support system.
Specification Differences Component vs. 800
Specification
Panelview Component
Panelveiw 800
Resolution
122×32 through 640×480
480×272 through 800×600
Colors
Monochrome or 256
65K
Backlight
CCFL and LED
LED
Power Supply
24VDC
24VDC
Processor CPU Speed
200MHz
800MHz
Internal Storage
64MB
256MB
RAM
64MB
256MB
Operating System
Win CE 5.0
Win CE 6.0
Serial Comms
RS-232 and RS-422/RS-485
RS-232 and RS-422/RS-485
Ethernet Comms
Yes – 1port
Yes – 1 port
USB Host
Yes – USB 2.0
Yes – USB 2.0
Memory Card
Yes, SD Card
Yes, Micro SD card
Certifications
cULus listed, CE, RoHs
cULus listed, Class 1 Div 2 (Groups A,B,C,D), T4A, CE, RCM, KC, RoHS
Recipes
1 Recipe file
50 Recipe files
Display Modes
Landscape Only
Landscape or Portrait

Have a suggestion for products we should compare? Leave a comment below, or send us a message on Facebook, Twitter or LinkedIn.
https://www.facebook.com/DoSupplyCompany
https://twitter.com/DoSupplyCompany
https://www.linkedin.com/company/dosupply-inc