Hardware Comparison: PowerFlex 525 vs 755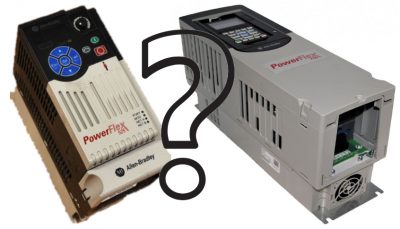 PowerFlex low voltage AC drives can be used in a wide variety of control solutions. The PowerFlex family of controllers ranges from low end applications for more simple control needs to more advanced and feature rich models that increase capabilities such as precise positioning and advanced torque control.
The PowerFlex family is also easy to program and configure and offers the familiarity of a common user experience regardless of the model selected. This is true for both compact PowerFlex drives used in simple applications at the machine level or in stand alone configuration as well as for architecture sized models with more advanced features and precision built for integration into a factory level or production line control system.
The result of this level of flexibility and common software utilization means that the PowerFlex family offers many advantages such as:
Low Cost – The range of functionality is so broad along the PowerFlex family that you can choose the right package of functionality for the best ROI without risk of being over or under-powered.
System Integrity – All PowerFlex models feature advanced diagnostics and alerts for irregular conditions.
Fast Time to Market – Software that is consistent and standard among all models means PowerFlex models can be configured easily and quickly to get the system up and running fast.
These advantages mean that the PowerFlex line offers scalability as the system grows. For this guide, we will look at the PowerFlex 525 and PowerFlex 755 controllers.
PowerFlex 525 and 755 Comparison
Differences and Functional Similarities
The biggest distinction between the PowerFlex 525 and the PowerFlex 755 is that the 525 is a modular compact version, most suitable for standalone, machine level and smaller and simpler integrations. On the other hand, the 755 is part of Allen Bradley's architecture class designed to integrate into larger production line o0r plant-wide control systems. Both are modular and are rated for rugged applications depending on the enclosure chosen.
Regardless of the model, all of Allen Bradley's PowerFlex family members uses an open network architecture. This allows for use of common industrial protocols (CIP) with common feature sets. Because CIP can be used with EtherNet/IP, DeviceNet and ControlNet, the PowerFlex family allows for collection, control and configuration of data on a single network, increasing its interoperability over a single network and allowing the user to realize higher ROI for a control system.
However, there are differences between the two models. Understanding these differences in functionality and capability will help you choose the right model for your control system.
Power Rating – The PowerFlex 525 is rated in four categories: 100-200V, 200-400V, 380-480V and 525-600V. This allows for control of motors from as low as 1.5 HP to as high as 30 HP. Because the PowerFlex 755 is built for architecture level system construction, it offers a higher range of power ratings starting at 380 V. The ratings for the 755 are: 400-480V, 500-600V and 600-690V for robust motors with HP as high as 2000.
Motor Control – Both the 525 and 755 allow for V/Hz control for both constant and variable torque using a VFD. V/Hz motor control is a cost effective and simple for a basic VFD schema. For applications where constant torque is required, both the 525 and 755 allow sensorless vector control and both also allow Closed Loop Velocity Vector Control for applications where precise speed control is needed. The differences in motor control includes the PowerFlex 525's allowance of permanent magnet motor control while the 755 offers both a surface mount and an interior permanent magnet in both "with encoder" and "without encoder" format.
Enclosures – Because the 755 is used in larger architectural applications, it is available in more enclosure types including flange mount, IP00/IP 20 UL, IP 54 UL type 12, IP 20 UL type 1 with cabinet and IP 54 UL type 12 with cabinet. The PowerFlex 525 is only offered in IP 20 UL open type and IP 30 UL type 1.
Safety – Both the 525 and 755 utilize Safe Torque-Off with the 525 utilizing PLd/SIL2 Cat 3 and the 755 using PLe/SIL3 Cat 3. However, the 755 also offers the Safe Speed Motor PLe/SIL3 Cat 4, a feature not offered by the 525.
Applications – Because it is used for more complex integrated systems, the PowerFlex 755 is designed for a larger number of applications. These include both open and closed loop speed regulation, precise torque regulation, precise torque and speed regulation, and accurate positioning. By contrast, the PowerFlex 525 is only used in applications requiring open and closed loop speed regulation.
Communication – Both the PowerFlex 525 and the PowerFlex 755 have an embedded EtherNet/IP port. Both also have capability to expand via dual port card for EtherNet/IP as well. Both the 525 and 755 benefit from modularity and provide additional communications protocols if needed through add on. These include DeviceNet, Profibus, USB and others. However, the 755 offers more communication modules such as ModBus, Profinet, and ControlNet and several specialized modules for applications such as HVAC. The 755 also has modules available for remote I/O communication as well.
I/O – The PowerFlex 525 offers multiple I/O options that include 7 digital inputs with two digital outputs. It also includes 2 analog inputs and 2 analog outputs and 2 relay outputs. The PowerFlex 755 offer 6 digital inputs with 3 digital outputs and 2 analog outputs.
User Interface – Both models allow intuitive and easy to configure Human Interface Modules (HIM). The PowerFlex 525 can allow HIMs as simple as a 5-digit, 16 segment LCD display with both local and remote keypad. It also allows MainsFree programming via USB as well as the Studio 5000 platform. It can also be configured with the Connected Components Workbench (CCW). The PowerFlex 755 also works with the Studio 5000 and Connected Components Workbench (CCW). However, the 750 is also compatible with both local and remote PowerFlex 750 series HIMs.
Programming and Configuration – Because both the 525 and 755 use the Studio 5000 programming environment, design and configuration are made easier. It allows for use of both embedded instructions as well as customized profiles during configuration. For example, the 525 allows for dynamic descriptions when configuring via HIMs so users need not spend time scrolling through manuals. It allows both models to integrate into the Logix environment to integrate between other components fully and intuitively within the control system. The same is true for the two model's reliance upon the Connected Components WorkBench (CCW. By using the CCW software, the 525 and 755 can be linked to other devices such as Micro 800, PanelView HMIs and more.
Absolute Differences
Diagnostics – One key difference between the 525 and the 755 is the presence of diagnostic capability for the PowerFlex 755. In today's connected factory environment, many Industrial Internet of Things (IIoT) platforms offer the ability to implement predictive maintenance based on machine performance. The analytics capability of the 755 is aligned with these value propositions and can help integrate the controller into a connected environment to help analyze and monitor machine behavior for optimized maintenance. The 525 does not have this capability.
Precision – The PowerFlex 525 is designed for smaller applications, standalone controls and machine level controls in simple control systems. It is also less powerful and is only rated for motors up to 30 HP. The 755 has advanced diagnostics and is rated for more complex systems and larger motors up to 2000 HP. And unlike the 525, the 755 is designed to control precise positioning, high torque and more controllable torque and speed ramp ups and slow down than the 525.
Model Variants – The PowerFlex 525 is versatile in that it can be mounted sideways, upside down and wherever it is needed. As a result, it has only two enclosures and can be placed close to the machine or the system depending on space and requirement. However, there are no major variants of the 525 itself. The PowerFlex 755 has five different enclosures as it is often used as part of a larger control system. The 755 also has model variations designed for specific applications and dedicated control system needs.

755TL, 755TR, 755TM – The 755T is designed for systems that require low harmonics. It is also used in systems that require regeneration of up to 4000 kW. It can deliver total harmonic distortion levels to less than 5% and has adaptive control functions that monitor machine behavior and automatically adjust and compensate for changes. This includes real-time health status of equipment as well as capability to predict the remaining lifecycle of critical components. This aligns the 755T with the predictive maintenance capabilities of the 755 series in general. However, the 755T can monitor a larger number of variables and predict when they will require replacement. The 755TL is used to achieve low harmonic. The 755 TR is used for situations when dissipated energy can be used for other functions. And the 755TM is used in applications where the control system requires a single bus system for all power.

Frames– Like the PowerFlex 525, the PowerFlex 755 series is modular in its ability to add functional modules for added capability. However, unlike the 525, the 755 achieves its increasing horsepower functionality by adding frames. This means that the cost of the 755 can be controlled based on the rated horsepower of the motor it is controlling. A single 755 is used in one frame for up to 700 HP. Two 755s are used for HP ranging from 600-1350. And three 755s are used for HP ranging from 1100-2000 HP. This allows the user to deploy only the drives needed based on HP thus controlling both space and cost.

Floor Models – The 755 series also come in floor models as well as mountable. These models can be fan cooled and the cooling monitored as part of the drive's functionality. The 755 series is also rollout to make service, installation and programming easier. Floor mounted models can also accept either AC power or may be powered on a common DC bus duct. Floor mounted 755s also come with replaceable surge protectors and when rolled out, field power connection remains in place. Finally, it is possible to roll out only the inverter while the converter and control stays in the cabinet. Because of its small size and ability to be placed in more versatile positions, the PowerFlex 525 does not possess these capabilities.
The PowerFlex 525 and PowerFlex 755 by Allen Bradley deliver powerful control functionality in cost effective packages that allow you to design and deploy a control solution quickly. 

Have a suggestion for products we should compare? Leave a comment below, or send us a message on Facebook, Twitter or LinkedIn.
https://www.facebook.com/DoSupplyCompany
https://twitter.com/DoSupplyCompany
https://www.linkedin.com/company/dosupply-inc