Tech Predictions for 2018 That Came True
2018 was an exciting year in the realm of technological advancements, surpassing even the most expertly stated expectations. In October 2017, international business consulting firm Gartner published their predictions for the top strategic technology trends in 2018. A year later, in October 2018, Forbes Technology Council convened a panel of experts to offer their take on the most disruptive technology breakthroughs of 2018. A comparison of Gartner's forecast to the Council's retrospective provides clues for what may be in store in 2019. If trends hold, it could be an even more explosive year.
Gartner's Predictions for 2018
Gartner is a research and advisory company that operates in 100 countries and serves 15,000 client organizations across the globe. Based on their interactions with these clients, Gartner generated the insights which informed their Top 10 Strategic Technology Trends for 2018, a report they released in October of 2017. Making sense of a surging technological landscape that continues to bloom so aggressively can be a challenge, but Gartner categorized the breakthroughs in a tidy fashion, calling the "entwining of people, devices, content, and services" by the loaded term "intelligent digital mesh", which breaks down as:
Intelligent: Systems are increasingly incorporating artificial intelligence (AI)
Digital: The line between the virtual and real worlds is blurring
Mesh: People, business, devices, content, and services are becoming more interconnected
Using the framework of the intelligent digital mesh, Gartner made their predictions for 2018:
General interest in building business solutions that harness the power of AI would continue to increase steadily through 2018 and even on to 2025.
Existing software applications would incorporate AI to add business value and provide invaluable data to fuel augmented analytics, and an AI foundation would be used for new app development.
Intelligent things, which use AI and machine learning to interact with humans and the environment, would begin to collaborate with one another in swarms.
Digital twins, which are digital representations of real-world objects or systems, would be built using information gathered via the Internet of Things (IoT), and assist with asset management and product improvement.
Edge computing, architecture which places more processing and delivery power closer to input sources, would be implemented by more enterprises in order to address challenges with connectivity, latency, and bandwidth.
Conversational platforms, which receive human input and return the desired outcome by executing complex actions autonomously, would become more sophisticated and less rigid.
Based on observations of Apple and Google, augmented reality (AR) and mixed reality (MR) would be the subject of intense battles in the smartphone landscape.
Though cautionary in their tone, Gartner predicted that exploration of blockchain would extend beyond the financial industry and into realms like government, healthcare, and supply chain.
Increased demand for situational awareness in digital business strategies, for the sake of swiftly capitalizing on digital business events, would push the capabilities of AI, the IoT, and other technologies.
Privacy and security would need to become more people-centric, with software developers needing to take more responsibility for using security measures. Gartner introduced an approach, continuous adaptive risk and trust assessment (CARTA), in 2017, and continued to encourage adoption in 2018.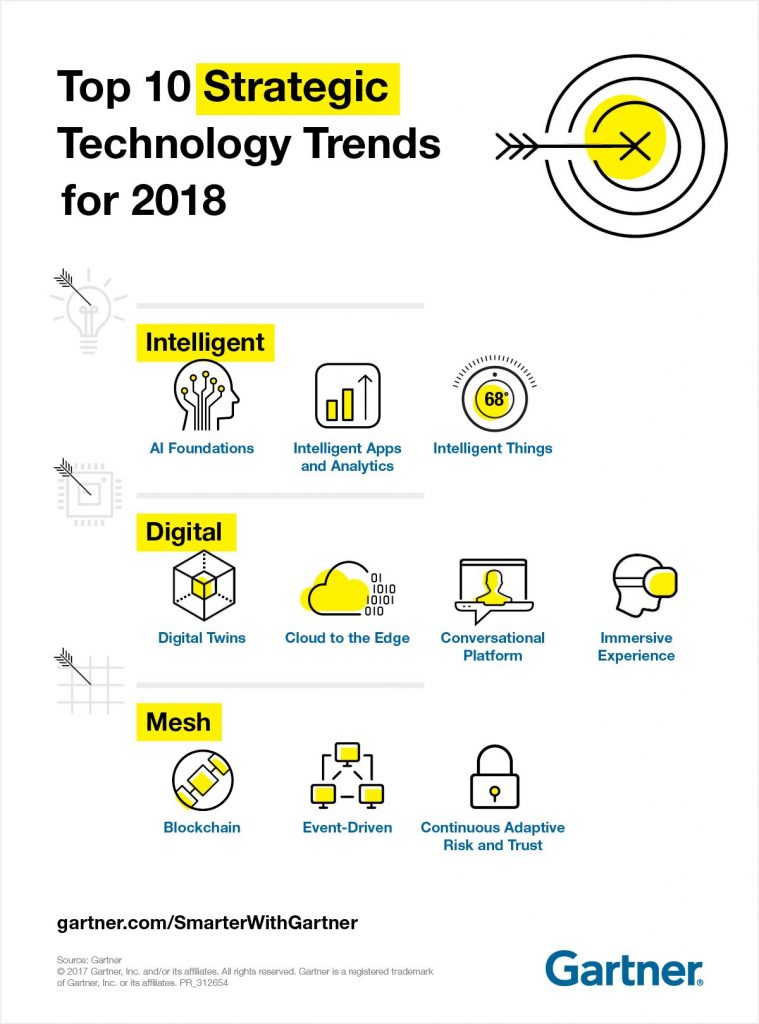 Given these research-based predictions, it is interesting to learn what a reputable panel of technology experts identified as the biggest technological breakthroughs of 2018. Comparing their list with Gartner's provides validation and some insight into what the future may hold.
Forbes Technology Council's Nine Disruptive Tech Breakthroughs
Comprised of Chief Information Officers, Chief Technology Officers, and executives from large corporations based in North America, the Forbes Technology Council is an invitation-only organization that facilitates the coalescence and distribution of tech industry expertise. In October of 2018, the group convened to name and describe Nine Disruptive Tech Breakthroughs in 2018:
Low-code and no-code application development capabilities broke down barriers to entry into the custom software development space, making it possible for an average person to create and deploy applications. This plays into Gartner's predictions regarding AI's influence on app creation and function.
With the enactment of the General Data Protection Regulation (GDPR) in the European Union, as well as the rollback of Net Neutrality in the United States, there were significant shifts in governmental oversight of consumer data. In addition, large corporations like Google, Apple, and Facebook were forced to respond to heightened consumer awareness of data and privacy issues. While the Forbes panel does not specifically cite CARTA, they are in alignment with Gartner's forecast.
Use of convenient, sophisticated, voice-based applications like Amazon Echo and Google Assistant rose dramatically, just at Gartner anticipated when identifying conversational platforms as a trend to watch.
Blockchain is hailed as "game-changing" in its versatility and ability to speed up transaction processes. The Forbes panel even predicts that its decentralized nature could likely eliminate middle actors from transactions. While Gartner's excitement about blockchain is decidedly more measured, they are in agreement with the Technology Council.
Healthcare information technology (IT) began a new wave of cross-sector collaboration, to bring their practices up to generally accepted standards. Gartner did not mention healthcare specifically in their predictions, but one can infer that technologies they did mention, such as edge computing, digital twins, and security, are very likely rolled into this breakthrough.
Clearly the star of the show in 2018, AI is lauded by the Forbes group for enabling predictive analytics derived from massive amounts of data. Technology Council member Laurent Simoneau points out, "There's data about what customers have browsed, bought and used, about the content they've read, documents they've downloaded and the results they've achieved." Essentially, Gartner's prediction about digital business events was manifest in 2018.
While Gartner called out edge computing as a potential remedy for issues with bandwidth, latency, and connectivity, the Technology Council highlighted the introduction of 5G technology as a disruptor in the 2018 technology scene. Thanks to the enormous boost in speeds, new applications and avenues for connection are being introduced.
Augmented reality made possible by smarter, more situationally aware devices is leaping forward. Both the Forbes team and Gartner recognized the hotness of the AR trend, with Luke Wallace pointing out, "Now that multiple users (even across platforms) can interact and look at the same augmented reality from their own perspective, it makes the experience so much more valuable and fun."
Real-time foreign language translation, specifically Google's Babel-Fish earbuds, is facilitating understanding like never before. Though Gartner did not include such a technology in their list of 2018 strategic technology trends, it is safe to assume that enabling technologies were on their radar.
Gartner's Top 10 Strategic Technology Trends for 2019
With predictions so on the mark, at least relative to the Forbes Technology Council's list, it is no surprise Gartner's forecast for 2019 follows a near-identical script. In their Top 10 Strategic Technology Trends for 2019 report, the consulting firm builds upon its intelligent digital mesh framework and moves the milestones on logical trajectories. For example, Intelligent Things in 2018 evolves into Autonomous Things in 2019.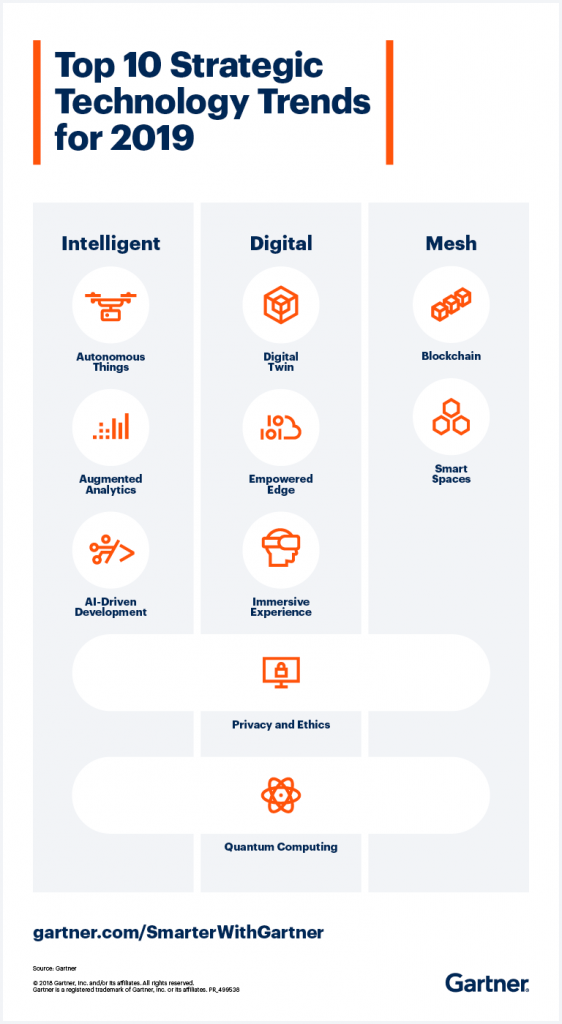 It is clear that the breakthroughs achieved in 2018 were not encapsulated within the year, and some technologies will unfold at quicker paces than others. Maintaining awareness of the timeline and the context for each tech trend is key to anticipating the next disruption. Regardless of your expertise, be it derived from peer-reviewed research or based on personal experience, one thing is for certain: These are exciting times.