Hardware Comparison: MicroLogix 1500 vs. CompactLogix 5380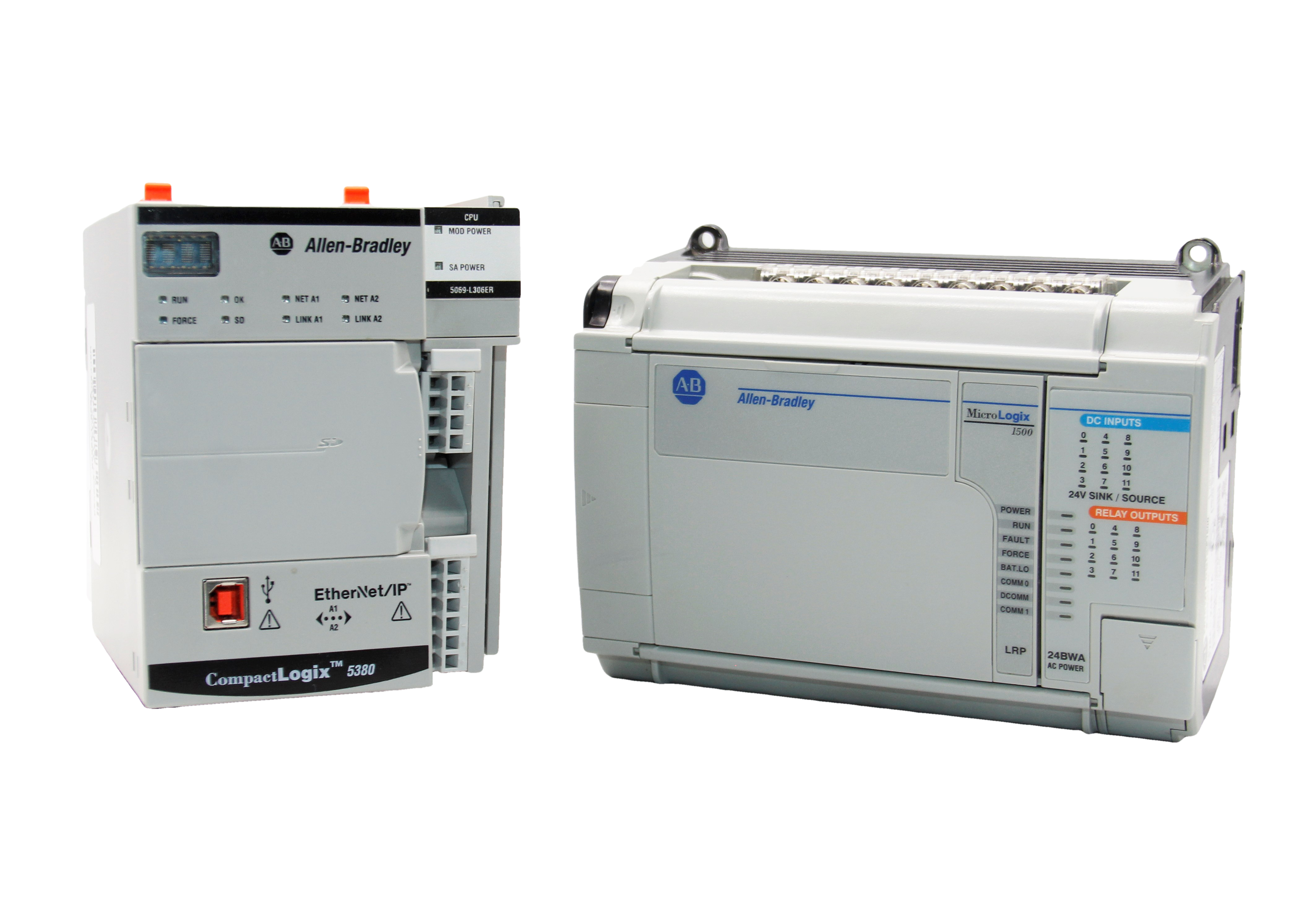 MicroLogix 1500 / CompactLogix 5380 controllers overview
The MicroLogix 1500 controller family from Allen Bradley is a PLC platform equipped with high level features and performance. This controller and compatible modules are of a modular type, mounted on a DIN Rail so as to take up minimum panel space during installation.

Generally designed for small- and medium-sized applications, the MicroLogix 1500 controller supports remote I/O function by combining with 1769- series compact I/O modules.

The controller comes with an RS232 Serial communication interface that supports the AB proprietary DF1 protocol (Full and Half Duplex) which can be used to communicate with HMI, SCADA and programming units.
The CompactLogix 5380 controllers are part of the Logix5000 family of controllers. Similar to MicroLogix 1500 family, controllers under this platform supports DIN rail mounting and component modularity contributing to minimum panel space installation requirement.

Small to Mid-size smart machines and equipment for manufacturing are the specialty of this controller family. Supports implementation of Remote IO systems by combining with other Allen Bradley or 3rd party communications adapter.

The built-in Ethernet communication port provides quick connectivity to existing enterprise networks including Industrial Internet of Things (IIoT) applications.
| | | |
| --- | --- | --- |
| | MicroLogix 1500 | CompactLogix 5380 |
| Installation | DIN Rail / Screw | DIN Rail |
| Expansion modules | 1769 Compact I/O | 5069 Compact I/O |
| No. Expansion modules | 16 Compact I/O modules | Depending on the ethernet adapter used |
| Built-in communication port | RS232 | Ethernet |
| No. of IOs; embedded | 16 Inputs / 12 Outputs, max. | 496 I/O, max. |
| Local IO modules | 8 modules | 31 modules |
| No. Expansion modules | 16 Compact I/O modules | Depends on ethernet adapter used |
| No. Expansion rack | 1 bank | Depends on ethernet adapter used |
| Built-in communication port | RS232 | Ethernet; USB |
| Programming Languages | Ladder Diagram | Ladder Diagram, Structured Text, Function Block Diagram, Sequential Function Chart |
| Product Maturity | Discontinued | Active |
Memory, Battery and Processing speed
The MicroLogix 1500 memory size ranges from 7K – 12K user memory using the 1764-LSP or 1764-LRP module. User memory is retained using 1747-BA Lithium battery. Controller processing speed is 1 milisecond per 1K of user program.
The CompactLogix 5380 memory size ranges from 0.6 to 10 MB. It implements a battery-less energy storage solution that eliminates maintenance, transportation and environmental issues associated with lithium batteries by providing power to the CPU on power down allowing the controller to write a customer's application and tag data to on-board flash memory. The battery-less Energy Storage Solution eliminates the need for a backup battery.
Communication
The MicroLogix 1500 has a built-in RS232 communication port that can be configured as DF1 Full and Half Duplex for communication with computers, programming devices, HMI and SCADA systems. This controller family also supports other communication protocols such as DH-485, Ethernet and Devicenet by using external Allen-Bradley interface converters.
The MicroLogix 5380 has a built-in Ethernet communication port that supports 10/100/1GB ethernet networks. Communication adapters for remote IO systems, Motion systems and messaging function can be implemented without the need of external interface converters.
Programming Software
The MicroLogix 1500 utilizes the RSLogix 500 Programming software which is IEC-61131 compliant.
The CompactLogix 5380 supports Logix Designer under the Studio 5000 software package.
Of the Two (2) programming software, Logix designer provides more programming flexibility than RSLogix 500. Programming in Logix designer can be done through the Ladder, FBD, STL and Sequential Function Chart languages while RSLogix 500 supports ladder language only. In addition, RSLogix500 addressing is "memory based" wherein element descriptions and comments are not included when an upload operation is performed. Logix Designer, on the other hand, implements Tag-based addressing. With this type of addressing, element description and comments are retained during program upload.
Furthermore, RSLogix 500 is a mature product while Studio 5000 including Logix Designer is currently an active product.
| | | |
| --- | --- | --- |
| | MicroLogix 1500 | CompactLogix 5380 |
| Programming software | RSLogix500 | Studio 5000 Logix Designer |
| Product Lifecycle | Active Mature | Active |
Implementation of Remote Input and Output (RIO) systems
Remote Input and Output is more popularly called RIO or Distributed I/O.

Normally, a plant consists of multiple areas. These individual areas may be served by installing individual controller racks in each. This solution will definitely work and may present advantages but may contribute to higher cost and increased points of failure.

A Remote I/O System is technically a rack without a controller. It only has a communication adapter to fetch data to a central controller. This solution has been available a long time and has proven to be a practical and ideal solution for plant requirements. Depending on the protocol used, a Remote I/O system can be implemented in distances ranging from 10m – 10km.
The MicroLogix 1500 controllers supports installation of 8 Local IO modules. The platform supports a basic level of I/O expansion, up to 1 bank (rack) in which a maximum of 16 I/O modules can be installed. Expansion banks can be installed One (1) to Three (3) meters away from the main rack.
Alternatively, Remote I/O can be implemented by adding communication converters, DH-485 network using an Advanced Interface Converter ( 1761-NET-AIC), to an Ethernet network using an Ethernet Interface ( 1761-NET-ENI), or to a DeviceNet™ network through the DeviceNet Scanner module ( 1769-SDN).
The CompactLogix 5380 allows installation of 31 local I/O modules. It supports a higher level of expansion through the built-in ethernet communication port in which the I/O expansion capability depends on the partner remote I/O adapter installed. I/O adapter options include Point I/O, Flex I/O, SLC I/O, ArmorBlock, ArmorPoint and ControlLogix I/O systems.
| | | |
| --- | --- | --- |
| | MicroLogix 1500 | CompactLogix 5380 |
| No. of Local I/O modules, max | 8 | 31 |
| No. of Remote I/O modules, max | 16 | Depends on Remote I/O adapter |
| I/O density of Local I/O module, max | 16 | 16 |
| I/O density of Remote IO module, max | 16 | Depends on Remote I/O adapter |
| No. of I/O points, max. | 384 | Depends on Remote I/O adapter |
| Remote I/O adapter support | N/A | Yes |
| Remote I/O adapter communication | Through interface converters | Built-in ethernet port |
Motion Control applications
The MicroLogix 1500 may be implemented for simple high-speed applications such as packaging or printing. This may be accomplished with the integration of encoders through the embedded high-speed inputs or by using 1769-HSC High Speed Counter module. Advanced modules for more complex motion control applications can be purchased.
The CompactLogix 5380 has a built-in Ethernet communication port that supports motion control over ethernet. This can be implemented with Allen-Bradley Kinetix drives and other compatible devices. Up to 32 axes can be controlled, perfect for machines installed in manufacturing and assembly industries. Traditional motion control approach may still be implemented through high-speed input channels.
Integrated Safety
CompactLogix 5380 modules can be mixed with Compact GuardLogix 5380 controllers to control machines and processes with integrated safety to adhere to the latest global safety standards.
MicroLogix 1500 modules rely on non-integrated measures for safe operation.
---

Have a suggestion for products we should compare? Leave a comment below, or send us a message on Facebook, Twitter or LinkedIn.
https://www.facebook.com/DoSupplyCompany
https://twitter.com/DoSupplyCompany
https://www.linkedin.com/company/dosupply-inc