Industry 4.0 and the Future of Jobs
In the midst of the Fourth Industrial Revolution, known colloquially as Industry 4.0, the World Economic Forum (WEF) has released a report titled The Future of Jobs Report 2018, which forecasts how global employment will be impacted by emerging technologies. Optimistic in its findings, the WEF expects a net positive for job growth as long as businesses, employees, and governments are proactive and agile in their efforts to align human talent with an evolving job market. Rather than being wholly replaced by robots, humans have an opportunity to merge their talents with available technologies for the purpose of enhancing bottom lines, but it is up to businesses and governments to create an environment conducive to sustainable growth.
The World Economic Forum
Based in Switzerland, the World Economic Forum (WEF) was founded in 1971 and is a non-political membership organization comprised of the world's top public and private companies. The WEF focuses its activities on understanding the strategic challenges of:
Making sense of the Fourth Industrial Revolution
Solving the problems facing the earth's unowned natural resources
Tackling global security issues
In this spirit, the WEF researched and compiled The Future of Jobs Report 2018. This report is based upon the results of a survey that asked a large and diverse set of member companies about their projections for business growth and workforce composition, as well as plans for closing skills gaps, through 2022. The results of the survey provide an understanding of the potential for the technologies at the forefront of the Fourth Industrial Revolution to create new high-quality jobs, and vastly improve the quality of work for human employees.
To fully understand the WEF's report and the information contained therein, it is important to have a working knowledge of what the Fourth Industrial Revolution is, and what technologies are set to shape the future of how we work and do business across the globe.
The Fourth Industrial Revolution (Industry 4.0)
Modern history includes four recognized periods of rapid technological, cultural, and socioeconomic growth, referred to as Industrial Revolutions. The first came about in the year 1760 and lasted until 1840, and was defined by the emergence of mechanization, which is the use of machines to replace human or animal labor. The time gap between each subsequent Revolution has been narrower, signaling the rapidity with which our society is advancing technologically.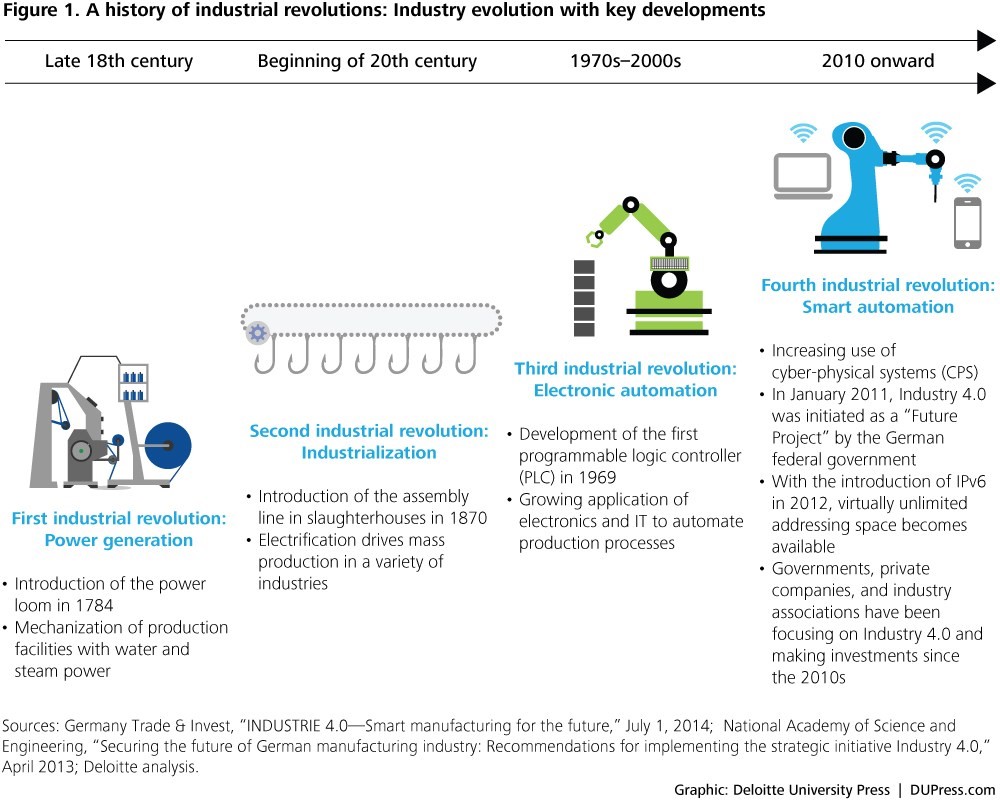 Since about 2010, the world has been experiencing The Fourth Industrial Revolution, heretofore referred to as Industry 4.0 in this article. This exciting period of growth and innovation, like its three predecessors, is based upon the emergence and adoption of distinctive technologies. These are described in greater detail below.
Cyber-physical Systems Drive the Fourth Industrial Revolution
Referenced in the above graphic, Cyber-physical Systems (CPS) "integrate sensing, computation, control and networking into physical objects and infrastructure, connecting them to the Internet and to each other," according to the National Science Foundation. These systems encompass technologies that Boston Consulting Group (BCG), a renowned  global management consulting firm, recognizes as driving Industry 4.0:
Big Data and Analytics: As data reporting progresses into data analytics, business decisions will be increasingly informed by valuable insights into what is possible, more so than reports about past performance.
Autonomous Robots: Robotic Process Automation (RPA) is designed to take up repetitive work tasks and free humans to tackle jobs that require higher-order cognitive skills.
Simulation: In the context of manufacturing, simulations allow for testing and optimization of machine programming in a virtual proving ground, prior to deployment into production.
Horizontal and Vertical System Integration: Data will be shareable between companies, across organizations and functions, and this evolution will drive a more cohesive way of doing business.
The Industrial Internet of Things: Devices large and small will be capable of generating and sharing insightful data, connected to companies and each other via the Industrial Internet of Things (IIoT).
Cybersecurity: The WEF asserts that cyber threats are expected to negatively impact business growth, but proactive efforts to shore up security around access and communications will help manage risk.
The Cloud: To enable fast data sharing free of geographical barriers, more and more machine data and functionality will be stored and served from the cloud.
Additive Manufacturing: 3D printing technology is but one method of additive manufacturing that will allow for low-cost, quick turnaround of small batch and custom products.
Augmented Reality: Augmented Reality (AR) is an upskilling technology that uses a device such as smart glasses to overlay information onto a physical object, changing how a human works with that object.
As global businesses invest in the above technologies in the hopes of obtaining a competitive advantage, enhancing their bottom lines, and securing their future in a high-tech world, savvy workforce planning will be crucial. By the same token, savvy workers will need to stay ahead of the learning curve if they want to remain employed in an ever-changing job market.
A Positive Outlook for Jobs, with a Catch
In The Future of Jobs Report 2018, the WEF examines how technological and socio-economic landscapes are set to affect human workers and global businesses through the year 2022. From November 2017 to July 2018, an online questionnaire was distributed to Chief Human Resources and Chief Executive Officers at over 300 companies representing 12 industry clusters and 20 economies across the globe. The instrument was designed to uncover these leaders' plans and projections related to jobs and skills.
While the number of workers required for certain "redundant" job tasks is predicted to be reduced over the next four years, the findings in the WEF report suggest that increased demand for augmented roles – those requiring human partnership with the advanced technologies of Industry 4.0, as well as those that require distinctly "human" skills, can offset that reduction. Close to 50% of companies surveyed anticipate that automation will lead to workforce reduction by 2022, yet 38% of respondents plan to extend their workforce to new roles that enhance productivity, and more than 25% expect new roles to be created thanks to automation. This favorable forecast stands in contrast to reports published by other reputable research entities, which foretold of job loss associated with the rising use of Industry 4.0 technologies. Acknowledging this difference, WEF points out that the realization of the optimistic outlook derived from survey responses is heavily dependent upon anticipating and addressing skills gaps.
As the global business landscape shifts to keep up with the changes inherent in Industry 4.0, and jobs are augmented, phased out, or invented to support the new ways of doing business, it will be imperative for workers, employers, and government entities to embrace a sense of urgency around reskilling and upskilling. According to WEF's report, "no less than 54% of all employees will require significant re- and upskilling." Reskilling is the process of undergoing training to learn new skills for the purpose of performing a different job. Upskilling provides additional skills for the purpose of performing the same or a similar job. Workers will need to be agile and open to embracing new technology and business models, proactively learning what is required of their new or augmented job. Businesses must recognize human capital investment as an asset rather than a liability, and provide training opportunities for their workforces. Government entities need to enact policy that creates an enabling environment to assist with these endeavors. The figure below provides a snapshot of the types of skills that will grow and decline as Industry 4.0 progresses.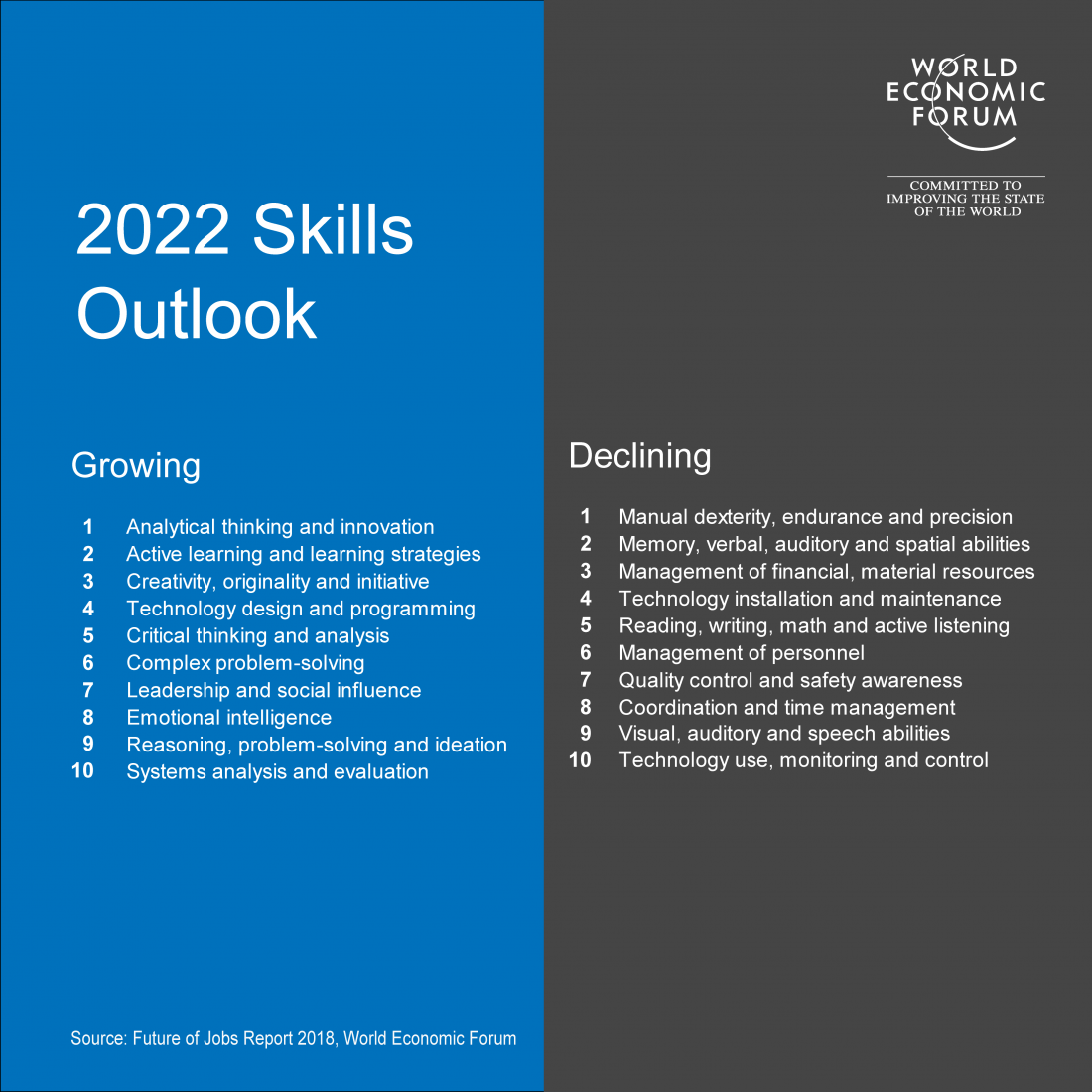 There is a high risk that the demand for such growing skills will outpace the availability of qualified talent. Survey respondents reported various strategies for aligning their workforces with their business' strategic goals, which can be distilled into three major categories:
Hire new permanent staff that possesses skills relevant to new technologies
Completely automate the work tasks of concern
Retrain existing employees
The WEF reports "the likelihood of hiring new permanent staff with relevant skills is near twice the likelihood of strategic redundancies of staff lagging behind in new skills adoption." Nearly 25% of companies place the reskilling and upskilling responsibilities squarely upon the shoulders of the employee, expecting them to learn as their jobs change. Companies that do undertake reskilling and upskilling efforts largely focus on already highly-skilled and highly-valued employees. These findings support the assertion that global businesses are so far relying on the workforce at large to ready itself for the future. The WEF counsels that companies need to recognize the value of fostering a culture of lifelong learning. After all, if the narrowing gap between Industrial Revolutions of the past is any indication, Industry 5.0 may be upon us before we know it. Companies self-sufficient in enhancing their workforces just might find themselves at the forefront of the next exciting global thrust into our technological future.