Eaton SVX and HVX Drives
No matter what industry you work in, you've almost certainly dealt with electrical components made by companies under the Eaton Corporation's umbrella.  Generations of industrial power and controls professionals have turned to Eaton for solutions, and as the Eaton family of companies continues to grow, we find ourselves handling products that our predecessors trusted all the same, just under different brand names.  One of these evolving product families is found in Eaton's SVX and HVX Adjustable Frequency Drives, previously sold under the Cutler-Hammer banner.  In this article, we'll update you on the current state of these still-relevant SVX and HVX drive models, as well as offer a comparison between their features.   
Eaton 9000X Adjustable Frequency Drive Family Overview  
While most control hardware buyers know Eaton Corporation for its wiring, power distribution, and panel hardware products, the company has an extensive array of higher-level control and automation devices positioned to compete against industry giants Rockwell Automation and ABB. Historically, Eaton has expanded its product offerings through acquisitions (as opposed to direct development), and this translates into a fair bit of brand identity confusion today. Eaton owns better-known brands such as Westinghouse, Cooper Industries, Tripp Lite, and Cuttler-Hammer, which happens to be the original manufacturer of the products we now know as Eaton SVX and HVX Adjustable Frequency Drives.
Before we dive into our comparison of the SVX and HVX models, let's first take a trip back to Eaton's drive lineup circa the mid-2000s in order to understand where these products fit into the overall catalog.  The drive group was known as the Cutler Hammer 9000X Family, with the following models:     
| | |
| --- | --- |
| 9000X Adjustable Frequency Drives | Description |
| NFX9000  | Micro Sized, 1/4 – 2 HP, Volt & Hertz Control |
| MVX9000  | Small Sized, 1/4 – 10 HP, Sensorless Vector Control |
| SLX9000  | Light/Commercial duty, 1 – 30 HP, Frequency & Sensorless Vector Control |
| SVX9000  | Full Feature, 3/4 – 2,000 HP, Frequency & Sensorless Vector Control |
| SPX9000  | High Performance & Motion, 3/4 – 2,000 HP, Multi-Control |
| HVX9000  | HVAC & Pump, 1 – 400 HP, Frequency & Sensorless Vector Control |
| CFX9000  | Clean Power Drives, 7-1/2 – 400 HP, Power Filtering |
| CPX9000  | Clean Power Drives, 25 – 800 HP, Power Conditioning |
| LCX9000  | Liquid Cooled, 16 – 2,300 Amp, Multi-Control |
| SPA9000 (SPA/SPN/SPI)  | DC Drives, 1-1/2 – 2,000 HP, Active / Non-Regen / Inverter Front-Ends |
To bring us back to modern nomenclature, Eaton has dropped the 9000 numbering from their models, and has discontinued and/or migrated various models into other lines in recent years.  Their Adjustable Frequency Drive lineup is broadly different now than the list above.  Still, the list is useful in understanding the origins of the models as a function of their positioning in the original lineup, and we'll cover updated positioning of the relevant models a bit more below.  For now, let's conclude that the SVX9000 was Eaton's primary general industrial drive, and the HVX9000 was its HVAC-specific counterpart, amongst other drives targeted at much smaller, much larger, or much more complex applications.
SVX and HVX Models Defined    
With the overall 9000X Drive Family rounded out above, let's pull out two models up for comparison next, the SVX9000 and the HVX9000. From here, we'll transition to Eaton's modern naming for these drives – simply, SVX and HVX. We'll also point out right away that while the SVX is still an available product (though showing signs of looming obsolescence), the HVX9000 / HVX model has been discontinued for some time. Our comparison between models therefore is mostly to inform readers of the original intentions of each model, providing information helpful in the search for replacing legacy drives with newer selections. This information is also useful in determining the suitability of deploying used drives into a current application in an effort to cut costs, utilize remanufactured drives, or evaluate a lateral replacement with leftover spare units.
SVX – Adjustable Frequency Drive designed for commercial and industrial applications, featuring a modular construction, many expansion card options, seven pre-loaded application programs, dynamic braking, an EMC filter, and an integrated 3% line reactor. Available in open chassis or enclosed panel configurations.
HVX – Adjustable Frequency Drive designed specifically for HVAC, pump, and fluid control applications. In many ways, the HVX is a striped-down version of the SVX, available with a consolidated horsepower capacity range and application-specific feature set.
While the two drives are very similar overall (where in short, the HVX is an application-centric variant of the SVX), the HVX does have two unique options available to it:  IntelliPass and IntelliDisconnect configurations.  These options offer power routing upgrades useful to pump and fan motor applications – more on this in the HVX Selection discussion below.   
Common Features and Key Differences  
Common features of both SVX and HVX models:
Robust design – proven 500,000 hours MTBF
Integrated 3% line reactors standard on drives from FR4 to FR9
EMI/RFI Filters H standard on 200 HP IH 480V, 100HP IH 230V
Copy/paste function allows transfer of parameter settings from one drive to the next
Standard NEMA Type 12 keypad on all drives
NEMA Type 1 and NEMA Type 12 enclosures available
Simplified operating menu allows for typical programming changes, while programming mode provides control of everything
Additional I/O and communication cards provided plug and play functionality
UL Listed, IEC Certified
When looking through drive ratings, you may notice that rating figures are often presented as either IL or IH in Eaton's documentation. A unique feature of the former 9000X series drives is that they offer two load ratings, either Low (IL) or High (IH). Eaton defines a Low rating as 110% overload capacity for 1 minute out of 10 minutes, and a High rating as 150% overload capacity for 1 minute out of 10 minutes. Selecting the correct drive requires detailed consideration of overload conditions.
Next, we'll list a short comparison table of specifications between the SVX and HVX models.  Readers will notice the similarities right away, with key differences only found in horsepower capacities and the absence of IH ratings on the HVX.
| | | |
| --- | --- | --- |
| | SVX | HVX |
| Standard Chassis | Open | Open |
| Horsepower Range | 3/4 to 2,000 HP | 1 to 400 HP |
| Optional Enclosures | NEMA Type 1, 12 | NEMA Type 1, 12 |
| Voltage | 230V, 480V, 575V | 230V, 480V, 575V |
| Brake Chopper | Optional | Optional |
| EMC Types | H, N, T, L | H, N, L |
| Input Voltage | +10% / -15% | +10% / -15% |
| Input Frequency | 50 / 60 Hz | 50 / 60 Hz |
| High Interrupt Rating | 100 kAIC | 100 kAIC |
| Continuous Output Current | IH rated 100% at 122°F (50°C), FR9 and below IL rated 100% at 104°F (40°C), FR9 and below IH / IL rated 100% at 104°F (40°C), FR10 and above | Ambient temperature max. +104°F (+40°C), overload 1.1 x IL (1 min./10 min.) |
| Output Frequency | 0 to 320 Hz | 0 to 320 Hz |
| Frequency Resolution | 0.01 Hz | 0.01 Hz |
| Control Method | Frequency control (V/f) Open loop: Sensorless vector control | Frequency Control (V/f) Open Loop: Sensorless Vector Control |
| Braking Torque | DC brake: 30% x Tn (without brake option) | DC brake: 15% to 150% x Tn (without brake option) |
| Ambient Temperature | 14°F (–10°C), no frost to 104°F (40°C) IL (all frames) | 14°F (-10°C), no frost to 104°F (+40°C) |
| I/O | Slot A – (1) A9 Card (6) Digital Inputs (1) Digital Output (2) Analog Inputs (1) Analog Output Slot B – (1) A2 Card (2) Relay Outputs | Slot A – (1) A9 Card (6) Digital Inputs (1) Digital Output (2) Analog Inputs (1) Analog Output Slot B – (1) A2 Card (2) Relay Outputs |
Below we see an Eaton SVX/HVX drive, referenced from Eaton's Drive Brochure Publication #PA04014001E/Z11008, dated January 2012.  In this picture, we can appreciate the separation between the IO cards and wiring contained in the upper low voltage housing, and the power wiring safely contained in the power chassis below.  Also worth noting is the removable LCD keypad on the drive's face, which can be remote-mounted for operating a drive contained within an enclosure.  The LCD keypad can be powered by a hand-held auxiliary power supply, allowing the drive to be programmed without applying full power to the drive.
The modular design of these drives brings about another large benefit – these drives are fully maintainable and serviceable (by qualified professionals, of course!). Replacement parts are fully documented in each model's user manual, with part numbers available for essentially all components that might need service. As there is a large installation base of both models still found in the field today, remanufacturing these drives can be considered both a viable option and a necessity.
SVX Selection  
To best see all of the configurable options available in an SVX drive, let's review the below part number matrix as referenced from Eaton's October 2021 Adjustable Frequency Drive Catalog, Publication #V6-T2: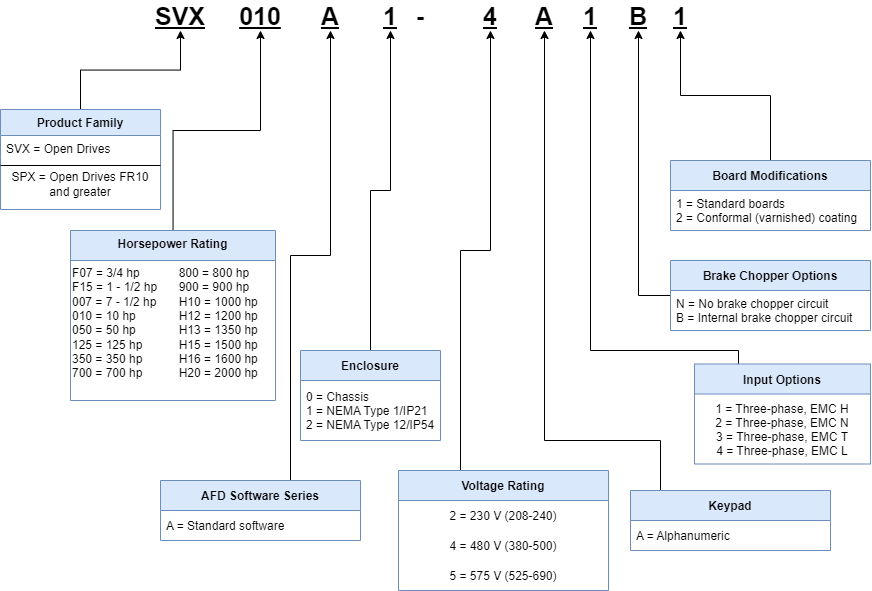 From this matrix, configuration appears very straight forward. Notice all of the various communication and I/O module options that can be uniquely arranged in the drive's available expansion slots. The SVX (and the HVX) does not come with any onboard communication connections – these will need to be added as an option. The array of communication protocols available is quite extensive, further defining the SVX as Eaton's widely-applicable general industrial standard drive.
Over the years, various options have fallen out of the Eaton catalog for the SVX model of drives. Expansion module options and pump panel assemblies are two notable selections no longer present in the current Eaton catalog. For this reason, we imagine that Eaton is positioning their PowerXL DG1 General Purpose Industrial Drive model to replace the SVX in due time.
One of the primary strengths of the SVX series is found in its "Seven in One" pre-loaded application program, which can be selected from the onboard LCD keypad, allowing users a guided application-specific quick start path to programming the drive. Once a program type is selected, these applications automatically limit and pre-configure the necessary input, output, and performance variables within the drive's software for the application at hand. These programs include:
Basic
Standard
Local/Remote
Multi-Step Speed Control
PID Control
Multi-Purpose Control
Pump and Fan Control with Auto Change
HVX Selection
The HVX's product number matrix is below, referenced from Eaton's June 2008 Adjustable Frequency Drive Catalog section, Publication #CA08102001E.
Compared to the SVX model's matrix, we see many of the same options, however the fewer horsepower and communication card selections do stand out. The HVX series is intended for a narrow range of pump, fan, and similar HVAC-type applications, and most do not need the full suite of options available in the SVX. The HVX allows automation designers working on HVAC applications to pick a slimmed-down drive carrying just enough features to tackle their needs, and likewise allows startup technicians to quickly dial in a system after installation. Other than these few limitations, the HVX line is just as robust and capable as the SVX line.
We'll remind readers again that the HVX is no longer an available new product from Eaton, but is still widely found in secondary markets. Eaton has transitioned the HVAC-targeted audience to their current H-Max series of drives, but we suspect that they may also further migrate users to their higher-tier HVAC offering, the PowerXL DH1 drive series. The H-Max series features patented energy-saving control algorithms, which are even further optimized in the PowerXL DH1 line.
We mentioned two unique HVX model features earlier in our discussion, referred to as IntelliPass and IntelliDisconnect options. Let's describe these in more detail now, and follow with the unique part number matrix for these versions:
IntelliPass – also referred to as IPass, this option consists of an HVX drive mounted within a NEMA-rated enclosure, along with additional switches, contactors, and components that allow power to bypass around the drive to the motor directly. This bypass removes main power from the drive, but keeps the keypad and software running. There are several ways to configure operation of this bypass, such as via a selector switch, remote input, or keypad input.
IntelliDisconnect – also referred to as IDisc, this option provides a contactor wired between the drive and the motor. The drive controls this contactor, opening it when the drive is stopped and closing it when the drive is engaged. This option can also be configured with an additional remote interlock controlling the disconnect.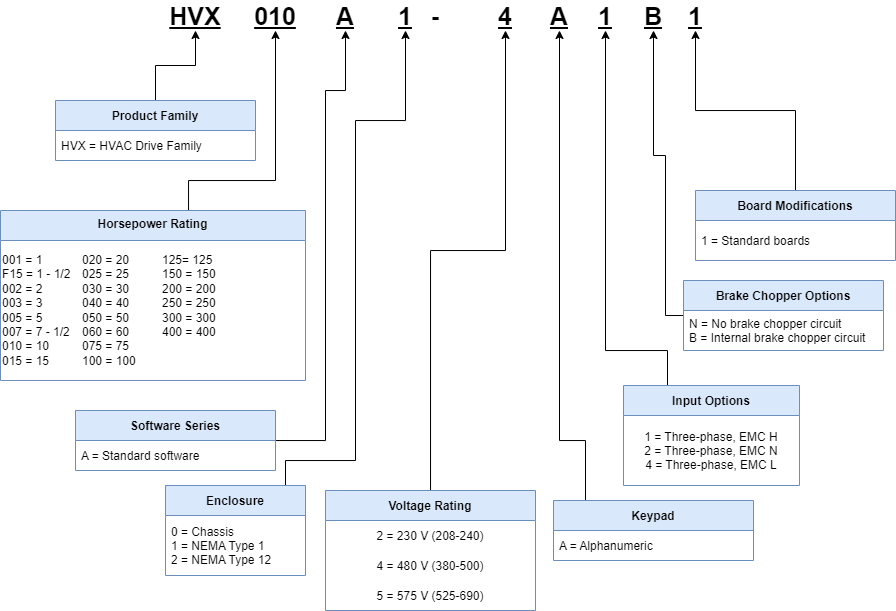 Deciding on either an IPass or IDisc version is only a matter of understanding their benefits to sensitive applications. A few examples:
To protect drives from induced current generated from a passively rotating motor, such as with siphoned water pulling through a non-powered pump and causing the impeller to rotate, select an IntelliDisconnect HVX model, which will open contactors on the motor legs and positively separate any transient current experienced.
For mission-critical motor applications such as air ventilation fans serving a hospital's Intensive Care Unit, consider selecting an HVX model with the IntelliPass option included.
Speaking of IntelliPass applications, please note that an in-panel bypass around a VFD is not usually designed to provide maintenance access to the drive while the load is engaged. Power is still present in the panel, and the drive's controls are likely working in some capacity to manage the bypass contactors, so it would likely be unsafe to attempt to remove or service the drive in-place while in bypass. For hot-swapping or in-place service of drives, instead utilize redundant drives in separate or baffled panels, where safe access to the failed drive is contained while the load is transferred to a separate, isolated drive elsewhere.
We hope that this review of Eaton's SVX and HVX Adjustable Frequency Drive models has been helpful in understanding and evaluating your Eaton drive replacement or repair needs. For more information or to discuss which PLC Control and Instrumentation solution might be best for your application, please visit our website here, or contact us at sales@dosupply.com or 1-800-730-0292.