What Should I Use? PLC vs. Arduino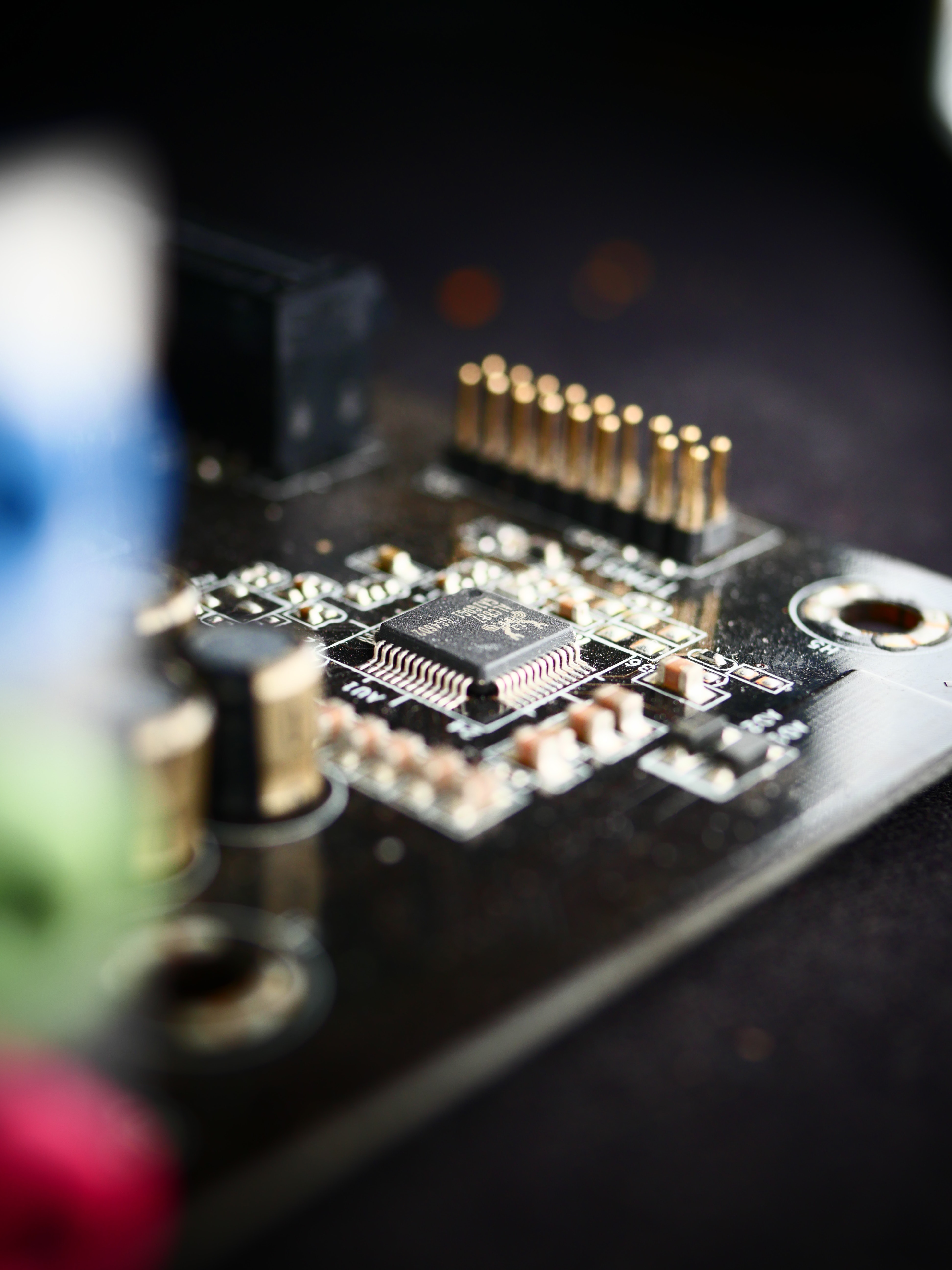 According to ISA, automation is defined as "the technique of making an apparatus, a process, or a system operate automatically". In a more practical sense, it is a system that operates with minimum or no human intervention at all. It has been part of the development of mankind all along however, the concept was further realized after the mass production system was finally implemented.

With automation in the mass production setup, consistent and uniform outputs may be produced. Absolutely, this cannot be achieved with manual and traditional automation.  

Fast forward today, a control system – whether commercial or industrial scope, meets the modern automation requirements if it is programmable. With the birth of the 1st programmable controller and the enhancement in the succeeding years, most control systems are now being governed by programmable controllers. 
Why Programmable Controllers?
Programmable controllers can be used in both home and industrial setup. They are also the core components of automation. They provide maximum flexibility and capable of implementing variety of simple to complex operations, depending on the instruction or program that is downloaded to its programmable memory. Additionally, these devices offer scalability wherein, additional components may be installed to enhance the device' base functionality.
What are these Programmable Devices?
The most popular programmable devices nowadays are Programmable Logic Controllers (PLC) / Programmable Automation Controllers (PAC) for industrial automation and Arduino-based devices for home and some industrial applications.

The main scope of PLCs and PACs as mentioned is industrial automation. After all, the very first model, the Modicon 084, was created as a replacement for the relay-based control system used by General Motors in the late 1950s. As soon as it was first invented and put into use, multiple enhancements leading to today's high-end functionalities allow the PLC/PAC to be used in almost all industrial processes imaginable.

On the other hand, the concept of Arduino started in 2005 as part of a Thesis submitted by a group of students in Italy. With its origins coming from the academic field, it is not surprising that Arduino gained popularity with students in the engineering field at first. It has an open architecture and does not require expensive software applications to configure, in fact, most are freeware which are developed by individuals or electronic companies. It soon became prominent with hobbyists, including hackers, until finally founding its way to some industrial applications. Arduino is one of the most popular examples of a Microcontroller.
Operation Concept
Arduino systems. PLCs and PACs have very similar operational concepts.
First, the controller, via the input channels, accepts electrical signals, whether discrete or analog and saves the received signal as a computer register (Bit, Byte, Word, Double Word, etc.) with appropriate length that properly represents the input signal.

Second, the controller processes the logic or user program that is downloaded to the controller's memory. Logic processing references the state of the input signal and executes the logic based on the detected input conditions.

Third, the controller updates the output devices wired to the output channels, whether discrete or analog devices. This output update is the result of the logic execution.

Fourth, the controller performs internal system maintenance and resolves minor issues (if existing) before automatically returning to First step of execution.

The repetition of this sequence completes a single Scan cycle.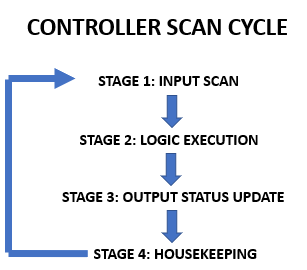 What are the Benefits of using Arduino and PLC / PAC?
Benefits of Arduino-Based Systems
Lower Cost – Arduino-based systems cost way lower compared to PLCs and PACs. This is true with optional, add-on components. This is one of the main reasons why Arduino systems are popular with students and hobbyists.
Flexible enclosure design -The base form of an Arduino system is a bare integrated circuit board. It can be mounted directly to almost any area of the device or process being controlled. In terms of housing or casing, it may be custom designed, or the device being controlled may serve as the Arduino controller's housing itself.
Small and Compact size – Arduino systems may be installed in almost any available space as it has very minimum space requirements. Additionally, the no-case design exhibits better heat dissipation.
Open architecture – Arduino programming software is considered freeware. It employs Integrated Development Environment (IDE) architecture wherein programming tools and facilities are packaged in one interface, specifically the code builder, test, and debugging tool.
Extremely mobile and portable -With a very compact form factor and customizable enclosure, Arduino based systems may achieve a maximum mobility in portability. One great example of this feature are miniature robots that move from one location to another. These robots maneuver at tight spaces and designed with sleek and slim body. Most of these robots are Arduino based. 
Availability – One can build Arduino-based control systems by purchasing Arduino components at your local electronics or hobby shops. In addition, with today's advent of online stores that sell products anything under the sun, one can surely find an available Arduino supplier.
Common accessories and connectivity tools – Accessories are commonly used household items. Wires, communication cables, Power Supply are some of these components. Surely, one may purchase ready-to-use and manufactured accessories however, in times where creativity and customization are needed, these household components will surely come in handy. 
Support / Community – Arduino support and community are more of a forum where professionals and hobbyists interact and exchange information. It has a feel of non-formal community due to the mix of professions within.
Benefits of PLC/PAC -Based Systems
Reliability – PLCs and PACs are manufactured based on the standards set by NEMA, IEC and certified by national and international standard such as UL, ISO, OPC and other bodies. This ensures that a certain PLC and PACs product are manufactured following internationally recognized standards for operational reliability.
Wide range of sizes – PLCs / PACs are available in many forms – Compact, modular and Hybrid designs. Compact controllers are packaged controllers with embedded communication interfaces, processor, I/O ports, power supply installed in a single housing. These compact controllers are slightly scalable, supporting installation of some add-on components to enhance functionality. Compact controllers typically are capable of handling up to 512 I/Os Most Arduino based systems are of this form only but not the I/O capability. Modular controllers come with a highly scalable form. Basically, each part is sold separately – Power Supply, communication modules, controller modules and I/O modules are in separate, individual housing. Hybrid controllers are modular controllers with the characteristics of compact controller. Basically, the base unit supports the functionality of a compact controller while the scalability feature adapting the capability of a modular controller.
Open Architecture – Architecture openness of a PLC / PAC is very different than that of an Arduino controller. Open architecture with this control system refers to the capability of using different brands that are capable of interacting with each other however, there's still certain, and significant limitations to this as it does not guarantee interoperability among different brands at the modular level.
Scalability – PLCs and PACs are highly scalable. Scalability enables a controller of handling up larger I/O density and integrated with more advanced functionalities and features. 
Operational lifespan – PLCs and PACs are designed to operate at a significant lifespan. Most PLC and PAC control systems operate at a minimum of 5 years however, most installations are replaced due to obsolescence of hardware and components.   
Support / Community – PLC and PAC community and support are available in online forums established by manufacturers or 3rd party community for a more open discussion. Additionally, each manufacturer's regional and country channels provide local commercial and technical product support. The type of support for PLCs and PACs are more of a formal community.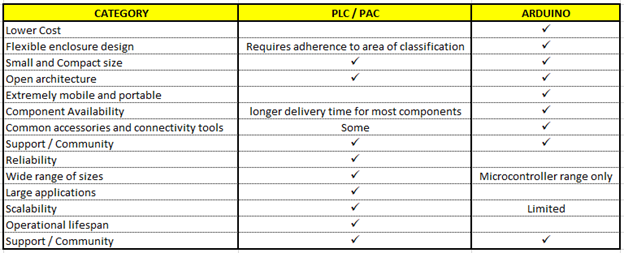 When to use an Arduino microcontroller?
Referring to the advantages that an Arduino Microcontroller offers, this device is best used in non-industrial, small scale applications or as a component of a larger control systems. To better help decide when it is appropriate to use an Arduino controller, the following list may be used as guide. Note that it is NOT necessary to meet all in the list, only the applicable items matter.
If your system is considered a micro / small application – Arduino Microcontroller is ideal for use in micro or small-scale applications, not exceeding 256 I/Os, ideally. In fact an Arduino controller may easily accommodate this I/O density in terms of memory capacity however, hardware assembly may somehow pose some installation challenges.
2. If the system requires simple controller architecture – Use Arduino microcontroller for implementation of Simplex Architecture. Simplex architecture is basically a single CPU operation. It does not offer fault tolerance thus, the failure of a component or the CPU itself will fail the system entirely.
3. If the system does not require integrated Safety – Arduino microcontrollers do not offer integrated safety features. In an Industrial Automation setup, some applications require a controller with a specific Safety Integrity Level (SIL) rating. Some PLCs / PACs come with an inherent SIL rating while others specifically function as Safety Controllers.
4. It the system requires mobility – Arduino microcontrollers are more suitable for use in application that require mobility such as robots or as a mobile component of a larger machine assembly.
5. It the system has remote operation functionalities – Similarly, an application that includes mobility requires that the controller be an independent type or one that may be controlled by a master controller remotely whether hardwired connection of wireless access. Though PLCs / PACs supports this, one may find Arduino a better alternative as Arduino based devices are more mobile and may cost lower which is the next consideration.
6. It the system requires maximum cost effectiveness – As previously mentioned, Arduino microcontrollers costs significantly lower than industrial grade PLCs / PACs. For applications with low financial funding or applications areas that are considered within the range of a micro / small controllers, an Arduino controller may be considered and used. Additionally, with the programming software being a freeware, additional cost of purchasing programming software is eliminated.
7. Component availability matters – When engineering a control system, one must consider the availability of the core components as well as accessories and components. In fact, when selecting a PLC / PAC, local support and hardware availability is one of the major deciding factors. With Arduino being commercially available virtually at almost any electronic shops, availability is guaranteed. Industrial PLCs / PACs on the other hand when out of stock locally (most of the time, Yes!), must be sourced out from a regional partner which may give a lead time of 4-6 weeks or 8-12 Weeks.
8. Compliance to Industrial Standards is not critical (non-industrial application) – Industrial standards require adherence and approval of certifying bodies. Almost all PLCs / PACs adhere to the set standards that is why these control systems are the primary choice for industrial applications. Most Arduino products do not comply to these standards however, there are few new Arduino hardware that do. These products are the recently released PLC / PAC like Arduino microcontrollers. Still, majority of Arduino microcontrollers are in the original form which best fit non-industrial, commercial or home automation applications.  
9. If the system requires integration and connectivity – When it comes to integration, minimum requirements dictate that a controller must be capable of being connected to a visualization system such as a Supervisory Control and data Acquisition (SCADA) or Human Machine Interface (HMI). Whether industrial or non-industrial applications, this is done via data exchange over one or a number of industrial protocols. For Industrial setup, prominent protocols are Ethernet I/P, ProfiBus, MODBUS, CANBus, LONWORKS, RS232 and many more. Arduino Microcontrollers on the other hand natively supports a separate set of protocols such LORAWan, UART, RS232, Ethernet I/P. There are published documents suggesting that Arduino microcontroller supports the mentioned industrial protocols however, the extent of connectivity is not yet well-defined. When using an Arduino controller with integration and connectivity requirement, it must be fully compatible with any of these protocols. Additional consideration involves connectivity to databases, CRM and ERP systems. For a non-industrial setup, this may not be a consideration but when an Arduino controller is being considered for use in an industrial setup, this consideration must be included prior to deciding if Arduino fits the requirement.
10. Ease of use and maintenance – Arduino Microcontrollers are programmed using C++ programming language. In terms of practicality, even experienced PLC and PAC programmers are not comfortable with this programming language. Additionally, most maintenance personnel within an industrial plant are Mechanical and Electrical personnel in nature, knowledgeable in Relay Ladder Diagram (RLD), also known as the technician's language. With this, when an Arduino control system fails, troubleshooting and program modification cannot be easily carried out. 
11. Internet of Things (IoT) – Internet of Things or Industry 4.0 is the current phase of industrial revolution. Actually, there are Two (2) terminologies for this – IoT and Industrial Internet of Things (IIoT). The concept remains the same where data of a remotely controlled and monitored device is sent to the cloud (internet) and accessed by a mobile device or workstation for operation and monitoring. When selecting Arduino Microcontroller, classify if the application is an IoT rather than an IIoT. In some cases, an Arduino Microcontroller may also be used to serve an IIoT requirement.

Have a suggestion for products we should compare? Leave a comment below, or send us a message on Facebook, Twitter or LinkedIn.
https://www.facebook.com/DoSupplyCompany
https://twitter.com/DoSupplyCompany
https://www.linkedin.com/company/dosupply-inc