Hardware Comparison: MicroLogix 1400 Series Comparison and Selection Guide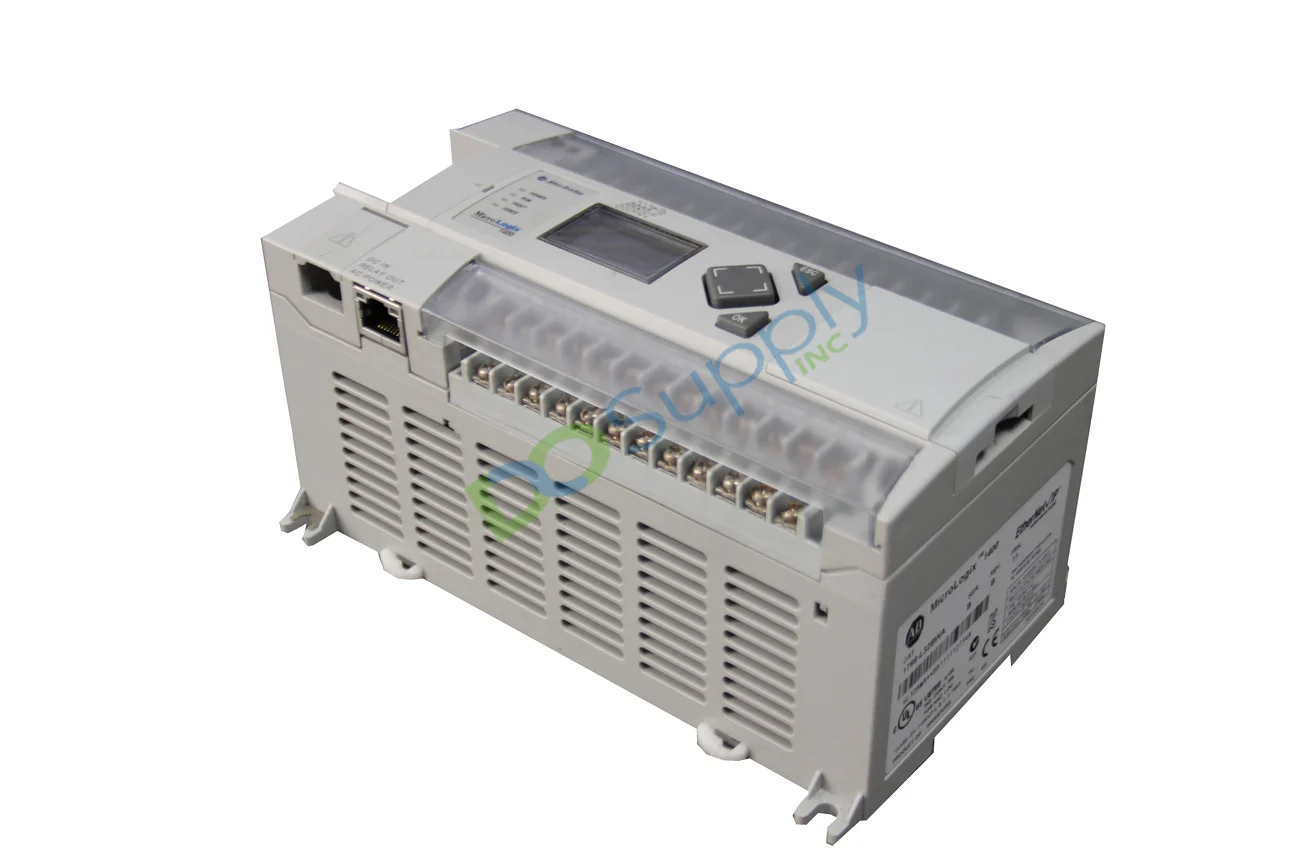 The MicroLogix 1400 series was designed to be small, versatile and expandable to suit a variety of control and communication needs. Relying on the popular RSLogix 500 software, these controllers offer EtherNet/IP, as well as online editing of programming. They also feature a larger number of I/O compared to other MicroLogix family members. And the MicroLogix 1400 series can enhance network functionality and offer a range of features to help build a customized control solution for a wide range of applications.
Comparing the MicroLogix 1400 to Other MicroLogix Controllers
As part of a family of small programmable logic controllers, the MicroLogix 1400 offers a step up with an expansion of capabilities over other members in this family. Built upon the successful capabilities of the MicroLogix 1100, the 1400 series offers many of the same features but with a more robust feature set on some functionalities including:
Increased I/O – The 1400 increases the embedded digital I/O count from 16 in the 1100 to 32. It also doubles the embedded analog I/O on some versions from the 2 offered by the 1000 to as many as 4 on the 1400. Its expansion I/O capabilities are greatly increased in the 1400 as well, reaching a total of 256 I/O, up from 144.
High Speed Counters – The original MicroLogix 1000 had only one high speed counter operating at 40 kHz. The 1400 series, however, offers up to six at 100kHz.
Motion Functionality – The 1400 series offers 3 pulse width modulated motion controls at 40 kHz and 3 pulse train outputs at 100kHz as well. This is a step up compared to the 1100 series which only offers two 40 kHz motion controls at 40kHz each and two pulse train outputs at 40 kHz as well.
Communication – Both the 100 and the 1400 offer a wide variety of communication inputs such as DeviceNet peer-to-peer networking and Ethernet /IP and both have web server capabilities. Both also have Data Highway 485 (DH485) communication ports as well as RS-232 ports. However, the 1400 series comes with an additional 9-pin D-shell port for RS-232 communication.
Communication Networks – Both the 1000 and 1400 series offer a broad selection of networks to work with. However, in addition to the standard network capabilities of the 1000, only the 1400 offers DNP3 over IP and Modbus TCP/IP.
Advantages of MicroLogix 1400
The MicroLogix 1400 was built to handle a wide array of industrial control applications including industrial machinery, building automation, commercial machinery and even utility applications that required SCADA. There are numerous advantages to using the MicroLogix 1400 over other controllers as well as over controllers within the MicroLogix family. These advantages include:
Communication Protocol Flexibility – The MicroLogix 1400 series allows users to switch from user set parameters to factory set parameters. This means the controller can be switched from Modbus RTU and ASCII protocols to a full-duplex mode to allow for upload and download capability. It also allows the user to monitor or edit the program. This is done by switching the controller toa full-duplex DF-1.
Memory and Program Flexibility – the 1400 has a larger memory which allows 10KB of user words along with 10 KB of user data. The program can be tuned because the 1400 allows online editing so that changes can be made while the controller is in use.
Data Logging and Recipe – As data impacts the controller, advanced data logging capability allows up to 128 KB of memory that can be used in analysis of the program. It also allows for up to 64 KB of recipe storage. This improves flexibility of performance by allowing batch changes for timers and counters.
Software Flexibility – Like all MicroLogix controllers, the 1400 uses the RSLogix 500 platform and can also use RSLogix Micro.
Comparison Among MicroLogix 1400 Base Unit Variants
Common Features
There are several different variants within the 1400 series. Each of these variants are available under a specific catalog number and have slightly different capabilities and features. These variants are:
The number and letter structure gives some information as to capabilities. But many features and functionality are available across all variants such as:
Memory – Each has 10K of user program and 10K of data space.
Data Logging and Recipe Storage – All variants have a full 128 K of data logging available and can support up to 64KB of recipe storage. Note, the 64 KB of recipe storage is subtracted from the KB available for data logging and is not an additional amount.
Memory and Battery Backup – All variants have both battery backup and a module for memory back-up.
Serial and EtherNet Ports – Each variant has a single RS232C/RS485 that are isolated. They also have a RS232C that is non-isolated and uses a D-sub connector. All have a single 10/100 EtherNet/IP port as well.
Serial and EtherNet Protocols – All 1400 variants support the full range of communication protocols and EtherNet protocols. These include both full and half-duplex DF1 as well as DF Radio Modern. They also support DH-485, and Modbus RTU as either a server or client and DNP as a client.
Other common features on all variants include floating point math, embedded real-time clocks, online editing and 2 trim potentiometers.
1400 Series Base Unit Differences
In addition to the flexibility offered by plug-in modules, additional features are available within variants to allow users to choose a version that best suits their needs. For comparison, here are the key differences between the available 1400 series variants:
Relay and FET Output Loads – The maximum controlled load for the 1766-L32BXB and 1766-L32BXBA is 1080 VA. For the 1766-L32BWA, 1766-L32AWA , 1766-L32BWAA and 1766-L32AWAA, the maximum controlled load is 1440 VA.
Series Differences
MicroLogix 1400 controllers have a series number in addition to their catalog number. This series number indicates which generation of controller is being used. Series A indicates the initial introduction of the 1400 series line. There are a few differences between series when using and programming a MicroLogix 1400 controller.
Communication Cable – The 1400 requires the use of specific communication cables which may vary based on series. For example, cables 1763-NC01 and 1747-CP3 can be used on series A controllers and later. However, there is a long list of cables that can only be used on series C or later. These include:
Software Release – The MicroLogix 1400 uses RSLogix 500 as its software platform. Series A controllers can use RSLogix 500 version 8.1 or higher. Series B and C must use RSLogix 500 version 8.3 or later.
Firmware – The determination of which firmware to use will largely depend on which functionality the user wants to enable. Each successive firmware upgrade enables new functionality so the user will need to be aware of what is required of the control system. For example, Series A controllers can only flash firmware upgrades through FRN7. For B and C series controllers, Allen-Bradley recommends using FRN-21.006, which introduced password enhancements to the programming along with other features. Other firmware upgrades available by series is:

FRN 21.005 – Series B and Series C only

FRN 21.000 Series B and Series C only
Additional Features
The MicroLogix 1400 comes with an embedded web server. This allows better control over data by enabling remote management of both the controller and the control system. This helps users conduct remote troubleshooting, program changes and other activities that save time and travel. It is also flexible enough to allow both simple web pages as well as customized views. This also helps in situations where speed of data transfer to the web page is a concern due to isolated equipment that may still use radio modems.
The embedded web server improves user performance and flexibility and even has email capabilities. However, use of the web server functionality is firmware sensitive. For FRN 16 and higher, current browsers can be supported. However, earlier firmware may require lower level or older browsers such as Internet Explorer 6.o of Firefox 2.0.0.14.
While not a base controller, the MicroLogix 1400 allows the use of a memory module during operation. The memory module can operate in one of two ways. While the module does not increase available memory of the control unit itself, it can be used as a backup against loss of the program and data. It can also improve agility and flexibility by allowing users to transport programs between different controllers.