Allen-Bradley Flex 5000 Selection Guide
Generally, a FLEX I/O line is a Distributed Input/Output System that connects to several Networks including EtherNet/IP, ControlNet, and DeviceNet. Being a bus coupler, the Flex I/O allows you to add different modules consisting of bases and I/O cards along the DIN rail. In particular, Flex I/O systems are flexible and modular providing all the functions of vast, rack-based I/O at a low cost and without the space requirements. They are available via a variety of communication modules, depending on the protocol of the lead module.
The FLEX 5000™ I/O is the most recent release of Allen-Bradley's popular Flex I/O line. Its architecture offers a variety of I/O modules to meet a wide range of your operational needs, with its applications spanning from high-speed digital control to process control. These I/O modules are designed for use with the Logix 5000™ controllers. Their architecture uses Consumer/Producer network communication models, an intelligent data exchange technology between the I/O modules and other system devices like controllers. This communication technology allows each of the Flex 5000 modules to input information without first being polled and output status, which is then shared among multiple Logix 5000 controllers, through the Ethernet/IP network.
Designed to meet additional application demands, the Allen-Bradley FLEX 5000 module series provides industrial I/O modules that include both standard modules and safety modules. The standard module supports high-density digital, Analog, and Serial I/O modules. It is available with up to 8 Analog I/O points per module and up to 32 Digital I/O points per module. The Safety Flex 5000 is integrated with safety features rated for PLe, Cat.4, and SIL3, which supports fail-safe I/O modules for applications requiring frequency measurement, temperature sensors, speed, pressure as well as flow sensor monitoring. Also, the safety I/O module is available with 4 Analog I/O modules and up to 16 Digital I/O modules, which can conveniently be mixed with the standard I/O modules in the same rack; reducing the hardware cost.
In addition, the FLEX 5000™ I/O modules enhance communication with a 1 Gb EtherNet/IP™ connectivity and backplane performance, this provides increased bandwidth and higher speed. These modules also have Ethernet adapters that support multiple network architecture and a variety of topologies such as Linear, Device Level Ring (DLR), Star, and Parallel Redundancy Protocol (PRP). They are available with an in-depth security strategy achieved with module vendor certificates, secure boot functionality, etc. in which it supports Removal and Insertion Under Power (RIUP).
Furthermore, the Allen-Bradley FLEX 5000 line is built for hazardous areas in the Div.2 Groups A, B, C, D, E, F, and Class 1 areas, as well as harsh environments rated as class G3, G2, G1. It is also designed to operate in extreme temperatures ranging between -40 oC to 70oC .
FLEX 5000 Selection Guidelines
A) FLEX 5000 I/O Digital Modules
You can use the following Digital I/O Modules with your Allen-Bradley FLEX 5000 include:
5094-IB16XT and 5094-IB16 Digital 16-point Sinking Input Modules: These input modules detect when an input of a field device changes states from ON to OFF or from OFF to ON, these changes of state are referred to as input transitions. They also play a key role in converting the input-state transition signals to relevant logic levels to be used by the connected controllers.
5094-OB16XT and 5094-OB16 Digital 16-point Sourcing Output Modules: The 5094-OB16XT and 5094-OB16 and digital 16-point sourcing output modules are used to drive output devices such as actuators. The behavior of these modules is determined by the data sent from the controller and some input devices.
5094-OW8I and 5094-OW8IXT Digital 8-point Isolated Relay Output Module: These output modules are used to drive output devices. They carry out their functions based on the data sent to them from some input devices and the controller.
B) FLEX 5000 I/O Analog Modules
The following Analog I/O Modules are compatible with your Allen-Bradley FLEX 5000:
5094-IF8XT and 5094-IF8 Analog 8-channel Current/Voltage Input Modules: These modules provide single-ended and non-isolated input channels, which you can connect to voltage or current devices. They support multiple Current or Voltage ranges depending on the type of input.
5094-IY8XT and 5094-IY8 Analog 8-channel Current/Voltage/RTD/Thermocouple Input Modules: These are universal input modules that provide single-ended differential and non-isolated Current/Voltage input channels, as well as RTD and Thermocouple input channels that can be used in a variety of applications. Also, these modules are capable of operating multiple ranges of input depending on the type of input you have connected them to.
5094-OF8XT and 5094-OF8 Analog Current/Voltage Output Modules: These are output modules that convert digital values to analog signals. They provide non-isolated output channels that you can connect to either voltage or current input devices. They can also be used to provide multiple ranges of outputs based on the output type required.
C) FLEX 5000 Specialty Modules
The following specialty modules are compatible with FLEX 5000:
5094-HSCXT and 5094-HSC High-speed Counter Modules: These are specialized modules for FLEX 5000, which count incoming pulses from counters, pulse generators, and other devices. They then return the counts to a controller or they go-ahead to activate specific output modules to execute a particular action. Six differential inputs make up the counters.
D) FLEX 5000 Adapter Features
A FLEX 5000 adapter enables high-speed transfer of data between the remote FLEX 5000 I/O modules and some Logix 5000™ controllers. It provides system-side (Module) power to the FLEX 5000 I/O modules via the MOD Bus. It also supports live bank changes, as well as the Removal and Insertion Under Power (RIUP) of FLEX 5000 I/O modules. Also, to connect the Logix controllers and modules over multiple network topologies, you will need a FLEX 5000 Adapter. The FLEX 5000 I/O modules are installed to the right side of a FLEX 5000 EtherNet/IP adapter.
Various FLEX 5000 Adapters support different FLEX 5000 I/O modules, as follows:
FLEX 5000 EtherNet/IP Adapter Power Supplies
Selecting the right power supply for the adapter is very essential for your FLEX 5000 system. As the adapters provide the Module (MOD) power which is used to power the I/O modules, enabling them to execute logic and transfer data. Power supply to the FLEX 5000 system starts at the EtherNet/IP adapter, it then passes across the internal circuitry of the I/O modules via power buses. Therefore, ensure that the MOD (Module) power bus supplying the system-side power is isolated from the SA(Sensor/Actuator) power bus providing the field-side power.
The following power supplies are recommended for different FLEX 5000 Ethernet/IP adapters:
E) FLEX 5000 Terminal Base
Terminal base assemblies are an essential part of the FLEX 5000 I/O series. To connect to field-side wiring, the FLEX 5000 I/O modules use the terminal base (TB) assemblies. The TB assembly consists of a removable terminal block (RTB) and mounting base (MB). Hence, your FLEX 5000™ terminal base (TB) assembly should comprise either a 5094-MBXT or a 5094-MB mounting base (MB), and a specific RTB depending on your selected FLEX I/O modules. The RTB is used as a terminal base for the I/O module. Note that, RTBS and MBs are not included with the FLEX 5000 I/O modules and you should order them separately, to assemble the required TBs for your system.
After assembling, the TBs are mounted onto a steel DIN rail that is yellow chromate-passivated and zinc-plated. It is recommended you use the Allen-Bradley 199-DR1; 46277; EN 60715-1.38 × 0.30 in. (35 × 7.5mm) DIN Rail. Ensure that you purchase the DIN rail end anchors such as the Allen-Bradley 1492-EAHJ35 or 1492-EAJ35; these are to be installed at both ends of the DIN rail to protect your FLEX 5000 system from shock and vibrations effects. Also, you should at least install a backplane end cap and a FLEX 5000 EtherNet/IP adapter, before you begin installing the TB assembly.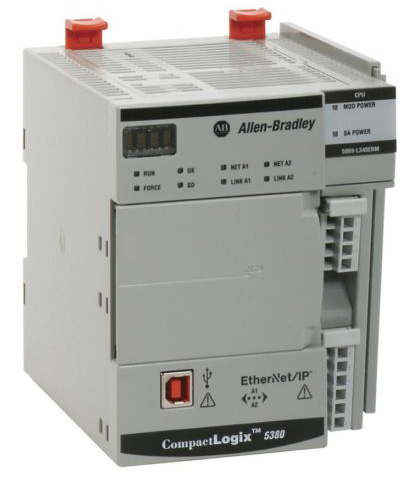 Examples of a Logix 5000 Control System in Operation with FLEX 5000 Modules
The figure to the right summarizes the selection guidelines for a FLEX 5000 Module for use in a Logix 5000 Control system. Fig.1 Illustrates a standard Logix Controller (5069-L340ERM) connected to a FLEX 5000 Ethernet/IP Adapter(5094-AENTR) and Standard I/O modules (5094-IB16 Standard I/O); which could be Analog or Digital I/O modules depending on your application.
You can use common wiring for the Safety I/O modules and the Standard I/O modules. Such that you can replace a 5094-IB16 standard I/O module with a 5094-IB16S safety I/O module, without having to interfere with the existing wiring.
This article is an easy guide for any system designer who may considering using a FLEX 5000 line with Allen-Bradley FLEX 5000™ I/O modules to design control systems. It guides you into selecting the right Logix Controllers, Logix Designer Application versions, Ethernet/IP Adapters, the Adapter Power supplies and terminal base (TB)assemblies that are compatible with the selected Analog/ Digital FLEX 5000 I/O modules depending on your applications. We hope that this overview of encoders within the MPL and 1326 Servo Motor Series has been helpful in understanding your selection options. For more information or to discuss which equipment might be best for your application, please visit our website here, or contact us at sales@dosupply.com or 1-800-730-0292.